Bitcoin (BTC) is in de afgelopen 24 uur met 0,1% gedaald en sinds middennacht met 2,5% gestegen. De actuele prijs is op het moment van schrijven $20.330 op crypto exchange Coinbase en €20.250 op de Nederlandse exchange Bitvavo. Het handelsvolume steeg in de afgelopen 24 uur met 8,5%. De totale marktkapitalisatie van bitcoin bedraagt op het moment van schrijven $389,8 miljard en de bitcoin dominantie komt uit op 39,1%.
Bitcoin nieuws van gisteren
Technische analyse: Weinig beweging voor BTC
De analisten uit de Discord omgeving van Crypto Insiders verwachten door de recente ontwikkelingen nog meer consolidatie voor bitcoin.
Gister gaven onze analisten al aan dat de bitcoin koers zal voortzetten in een langzame beweging omhoog. Dat komt door meerdere positieve factoren zoals de divergentie op de Relative Strength Index (RSI). Deze wave zal volgens de analisten echter wellicht al eindigen rond de witte trendlijn. Bitcoin maakte onlangs nog een flinke duik en vormde toen een dubbele bodem zoals in de onderstaande grafiek is te zien. Dit is voor de analisten een bevestiging dat er weinig kracht achter de stijging zit.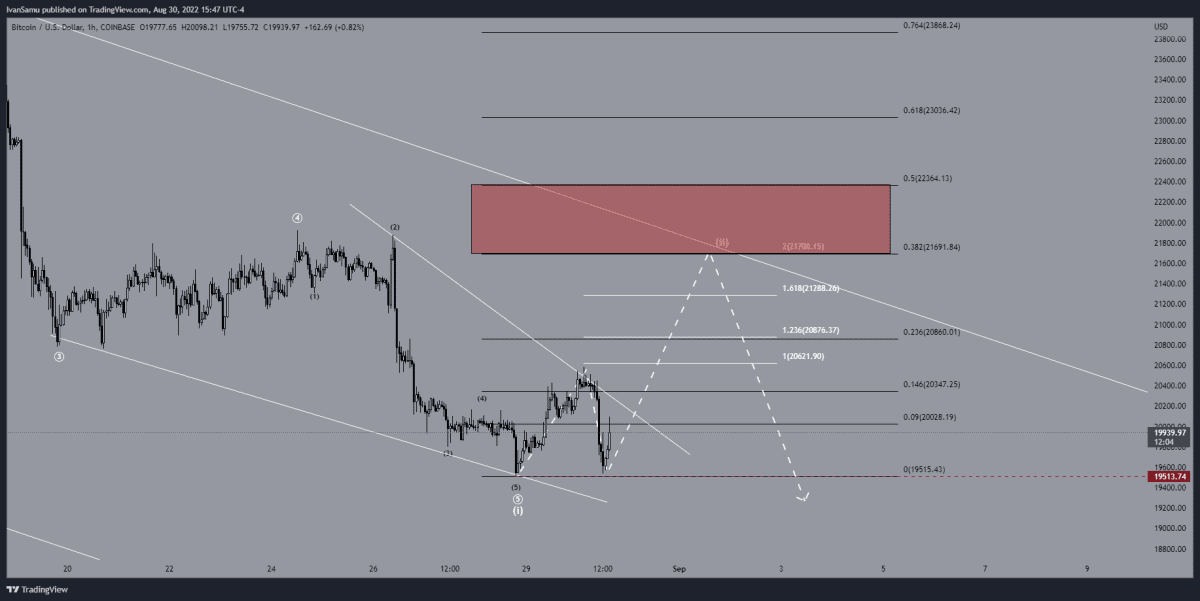 Fundamentele analyse: Volgende bull markt kan nog even duren
Een wallet met minimaal 1.000 BTC wordt als een whale gezien. Het gedrag van bitcoin whales geeft een beeld wat het grote geld (vaak institutioneel geld) doet. Daarnaast hebben whales dermate veel bitcoin in bezit dat zij relatief veel invloed hebben op de koers. In samenloop met de recente koersdaling van bitcoin en de algehele cryptomarkt is het interessant om te kijken wat bitcoin whales uitspoken.
De onderstaande grafiek is een weergave van wallets die 1.000 bitcoin of meer bezitten. Het valt op dat het aantal wallets met 1.000+ bitcoins (geel) piekt in aanloop naar de all-time high (ATH) van een bull-run (paars). Dit was het geval in 2014, 2018 en 2022. Het aantal 1.000+ wallets daalt vervolgens verder naarmate whales hun bitcoin verkopen.
Tijdens de recente prijsdaling zagen we het aantal whale wallets met 1.000+ bitcoin dalen. Op dit moment zien we een kleine stijging, maar de algehele trend is nog steeds negatief. De komende periode zal moeten uitwijzen of de trend daadwerkelijk omkeert.
Premium crypto analyse van de dag: Polygon (MATIC)
Premium leden ontvingen onlangs een nieuwe analyse van polygon (MATIC). In deze analyse zagen de analisten uit de Discord omgeving een duidelijke verkoopzone voor de cryptocurrency. Deze verkoopzone is op basis van de Fibonacci 127,2% en 161,8% bepaald. Voor MATIC wordt er door de analisten nog een verdere daling verwacht. Deze daling zal door een Elliott Wave ABC patroon eerst een kleine stijging tonen voordat de koers hard de weg naar beneden hervat. Hierbij kunnen we een bodem rond de $0,60 verwachten.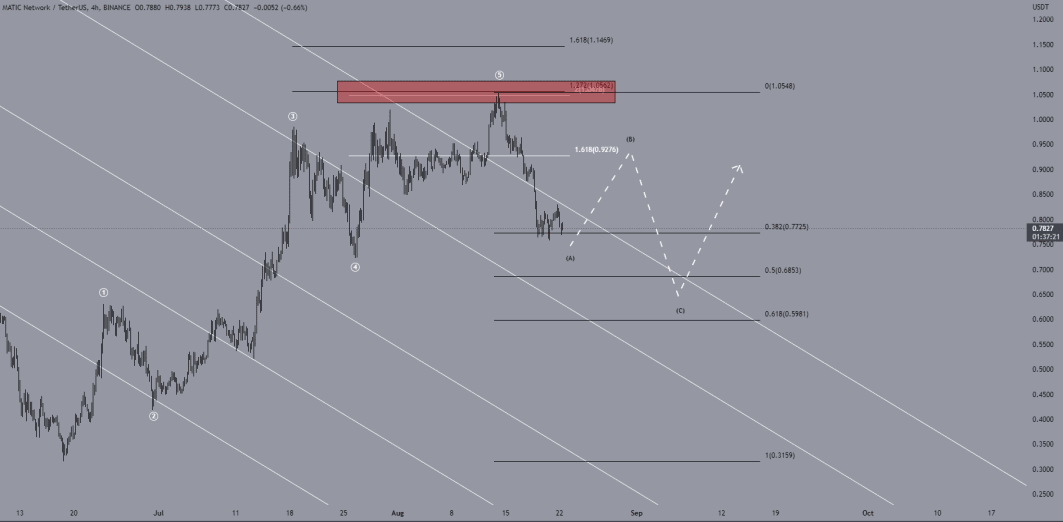 Handel samen met Crypto Insiders op Discord
Zoek jij hulp met handelen in crypto? Dan verwijzen we je graag door naar onze Discord groep voor leden. Hier bediscussiëren ervaren analisten en handelaren dagelijks hun analyses en handelsplannen. Ook delen we hier als eerst onze technische en fundamentele analyses. In onze Discord community kunnen we 24/7 kennis met elkaar delen en proberen we onze premium leden op de hoogte te houden.
Wil jij dit soort analyses eerder lezen? Neem dan ook een kijkje in de Discord omgeving. Hier kan je ook direct in contact komen met verschillende analisten en crypto enthousiastelingen die klaar staan om jou te helpen!
Disclaimer: Beleggen brengt risico's met zich mee. Onze analisten zijn geen financieel adviseurs. Raadpleeg altijd een adviseur bij het maken van financiële beslissingen. De informatie en tips die op deze website zijn verstrekt is gebaseerd op eigen inzichten en ervaringen van onze analisten en dienen alleen voor educatieve doeleinden.