Disclaimer: Beleggen brengt risico's met zich mee. Onze analisten zijn geen financieel adviseurs. Raadpleeg altijd een adviseur bij het maken van financiële beslissingen.
---
Bitcoin (BTC) tikte gisterenochtend nog even $20.000 aan, maar lukte toen niet om dit niveau te heroveren. De analisten uit onze Discord omgeving waarschuwden al dagen dat het erop lijkt dat de koers op het punt stond om naar onder uit te breken. Dat gebeurde gisterenavond en bitcoin viel direct helemaal naar $19.000 en zakte gedurende nacht nog dieper.
Vroeg vanochtend kwam bitcoin op een dieptepunt uit van $18.600. De afgelopen paar uur kon bitcoin voorzichtig iets herstellen. De BTC prijs komt op het moment van schrijven uit op $18.800 op Coinbase en €19.000 op Bitvavo. Daarmee staat de BTC koers vandaag 5,2% in de min.
Het handelsvolume van bitcoin steeg in de afgelopen 24 uur met 32%. De totale marktkapitalisatie komt momenteel uit op $359 miljard en de dominantie  van bitcoin op 38,3%. De fear & greed index toont met 24 aan dat de angst op de markt nog altijd erg hoog ligt.
Bitcoin Fear and Greed Index is 24 ~ Fear
Current price: $18,755 pic.twitter.com/hQIHSfKA43

— Bitcoin Fear and Greed Index (@BitcoinFear) September 7, 2022
Bitcoin nieuws van gisteren
Bitcoin vormt een neerwaarts kanaal.
De bitcoin koers is uit de consolidatiezone gestapt en vormt een duidelijk neerwaarts kanaal. De analisten uit onze Discord groep verwachten nu eerst een klein herstel, maar vrezen dat de koers niet veel verder komt dan $19.250. In de onderstaande grafiek is dit niveau aangegeven als de rode verkoopzone. Bitcoin kan daarna zijn neerwaartse trend weer voortzetten en de koers zou dan vervolgens naar $18.500 of lager kunnen zakken. Dit is in de grafiek aangegeven als de groene zone. Deze levels zijn bepaald aan de hand van de zogeheten Elliott Wave theorie. In dit geval zien de analisten een 12345 impulsive wave omlaag ontstaan.
Op de 4 uur grafiek zien we een mooi patroon ontstaan waarin de Relative Strength Index, een indicator om de kracht van de koers te bepalen, steeds hogere bodems maakt. Dit betekend dat de kracht van de koers afzwakt terwijl de koers wel nieuwe bodems maakt. In dit geval betekent het dat we te maken hebben met een bullish divergentie en zouden we de komende dagen wel eens een opgaande markt kunnen zien.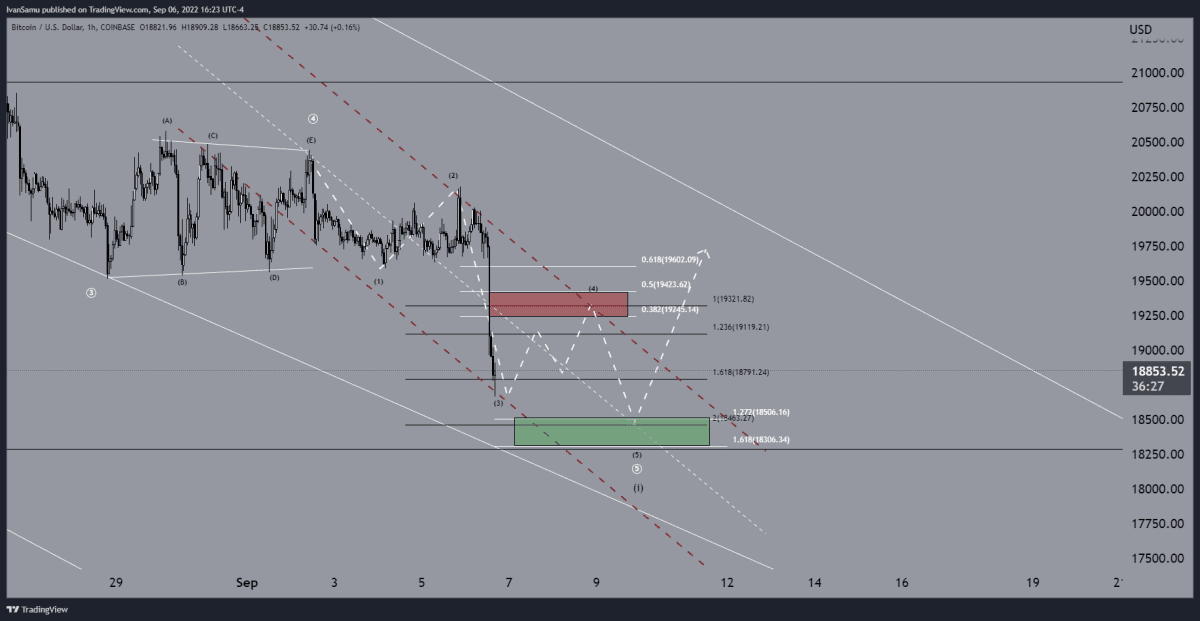 Bitcoin op exchanges blijft afnemen
Gister benoemden we dat bitcoin op exchanges, ondanks een toevoer van 4.400 bitcoin door miners, er nog steeds een netto uitloop plaatsvindt. Vandaag nemen we een bredere blik en zien we hoe de netto uitstroom van bitcoin van exchanges zich verhoudt ten opzichte van de bitcoin historie.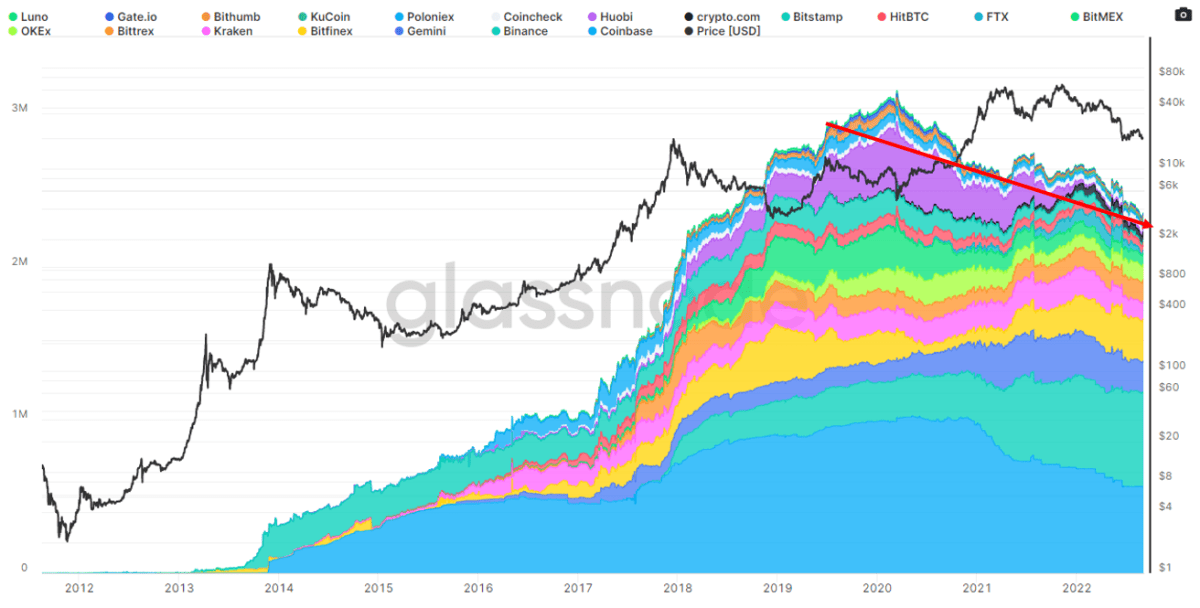 Op de bovenstaande grafiek zien we de hoeveelheid bitcoin per exchange. Duidelijk wordt dat sinds de coronacrash van maart 2020 het aantal bitcoin op exchanges sterk afneemt. Zo is in 18 maanden het aantal bitcoins op exchanges afgenomen van ongeveer 3,1 miljoen BTC naar ongeveer 2,2 miljoen BTC. Dat is een reductie van bijna 30% waardoor een historisch laag aantal BTC nog op beurzen staat, het laagst sinds maart 2018. Dit is een positief teken voor de koers op de lange termijn, vooral in combinatie met de bitcoin halving in 2024.
Handel samen met Crypto Insiders op Discord
Zoek jij hulp met handelen? Wil je graag meer kennis opdoen over de markt? Neem dan een kijkje in onze Discord groep voor leden. In deze omgeving willen we de leden leren hoe zij zelf analyses kunnen lezen en maken. Daarnaast komen actuele onderwerpen elke dag aan bod en kijken we naar de verschillende sectoren binnen de markt. In onze Discord community kunnen we 24/7 kennis met elkaar delen en proberen we onze premium leden op de hoogte te houden. Wil jij dit soort analyses eerder lezen? Neem dan ook een kijkje in de Discord omgeving. Hier kan je ook direct in contact komen met verschillende analisten en crypto enthousiastelingen die klaar staan om jou te helpen!