Disclaimer: Beleggen brengt risico's met zich mee. Onze analisten zijn geen financieel adviseurs. Raadpleeg altijd een adviseur bij het maken van financiële beslissingen.
Zoals in de Crypto Insiders Premium omgeving is besproken, is bitcoin (BTC) in de afgelopen 24 uur met 0% gedaald en sinds middennacht met 0,6% gestegen. De actuele prijs is op het moment van schrijven $20.125 op crypto exchange Coinbase en €20.180 op de Nederlandse exchange Bitvavo. Het handelsvolume daalde in de afgelopen 24 uur met 7,2%. De totale marktkapitalisatie van bitcoin bedraagt op het moment van schrijven $385 miljard en de bitcoin dominantie komt uit op 39,1%.
Bitcoin nieuws van gisteren
Technische analyse: bodem is bereikt voor bitcoin
Vandaag nemen we een kijkje naar de analyse van El Crypto Prof op Twitter. De analist keek naar de lange termijn grafiek van bitcoin met behulp van de 50 dagen en 100 dagen moving averages (MA) alsmede de Relative Strength Index (RSI) bij. Het viel hem op dat deze indicatoren gelijke signalen gaven op soortgelijke momenten in de geschiedenis van bitcoin.
Zo viel het de analist op dat we zowel in 2015 als in 2018 een kruising zagen van de 50-dagen en 100dagen MA, ook bekend als een Golden Cross. Op hetzelfde moment raakte de RSI een steunlijn. Deze kruising was tweemaal het signaal dat de bodem bereikt was. Op dit moment zien we wederom een kruising plaatsvinden. Het opvallende is dat de RSI op dit moment even laag hangt als tijdens de vorige bodems. Dit zou dus een teken kunnen zijn dat bitcoin wederom zijn bodem heeft bereikt.
Did you know that the cross of the 50MA and 100MA (W) is happening right now?

This is the third time this has happened since 2015 and the bottom was always in before.
The trendline in the RSI was also touched at the same time (as before) and was ALWAYS support. pic.twitter.com/nMCVxy7FgB

— 𝕄𝕠𝕦𝕤𝕥𝕒𝕔ⓗ𝕖 🧲 (@el_crypto_prof) September 1, 2022
Fundamentele analyse: Bitcoin mining concurrentie stijgt hard
Recent observeerde we dat de hash rate van Bitcoin hard aan het stijgen is. Vervolgens steeg de moeilijkheidsgraad op 31 augustus met 9,26%. De hash rate geeft de concurrentie op het netwerk weer, en daarmee de moeilijkheidsgraad voor miners om bitcoin te minen. Wanneer de concurrentie toeneemt, wordt het netwerk ook veiliger. De hash rate is de rekenkracht van het Bitcoin netwerk en wordt uitgedrukt in het aantal berekeningen per seconde.
In de onderstaande grafiek zien we dat de moeilijkheidsgraad van bitcoin sterk is gestegen over de afgelopen jaren. Dit is niet gek in verband met de stijgende koers. Hierdoor zijn meer miners bereid om zich in te zetten voor bitcoin mining omdat de verdiensten stijgen. Dit zorgt voor een veiliger netwerk. Historisch gezien zien we dat de moeilijkheidsgraad vaak stijgt in aanloop van een bull-run. Daarom kijken on-chain analisten graag naar de hash rate en miner activiteit. Daarbij geeft de recente sterke stijging in de mining concurrentie een positief vooruitblik voor bitcoin.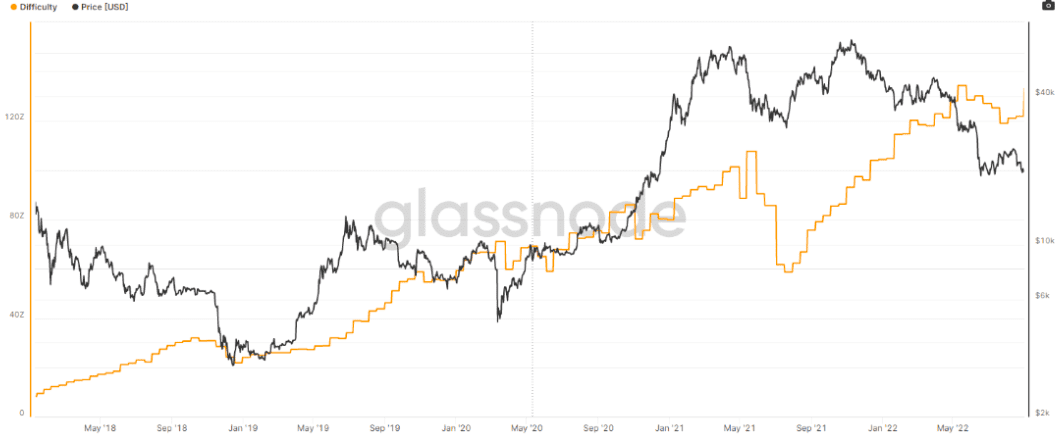 Premium crypto analyse van de dag: Cardano (ADA)
Premium leden ontvingen onlangs een analyse van cardano (ADA). In deze analyse lieten de analisten van Crypto Insiders zien dat ADA er niet erg goed uitziet en dat zij nog een verdere daling verwachten. Deze daling zal in een impulsive 12345 Elliott Wave patroon naar beneden gaan. Deze daling zou ADA helemaal naar de 127,2% en 161,8% Fibonacci kunnen brengen, ofwel $0,30 tot $0,20 respectievelijk.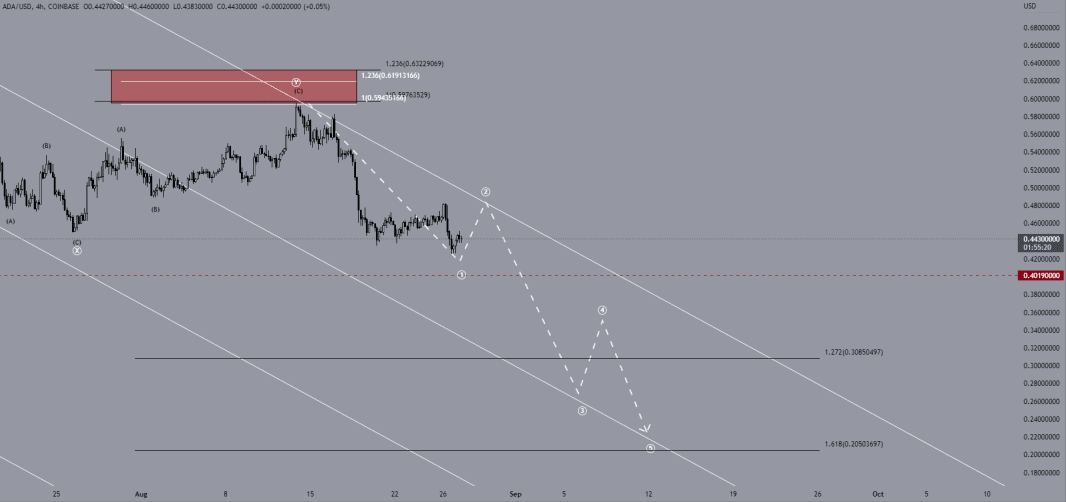 Handel samen met Crypto Insiders op Discord
Zoek jij hulp met handelen? Wil je graag meer kennis opdoen over de markt? Neem dan een kijkje in onze Discord groep voor leden. In deze omgeving willen we de leden leren hoe zij zelf analyses kunnen lezen en maken. Daarnaast komen actuele onderwerpen elke dag aan bod en kijken we naar de verschillende sectoren binnen de markt. In onze Discord community kunnen we 24/7 kennis met elkaar delen en proberen we onze premium leden op de hoogte te houden. Wil jij dit soort analyses eerder lezen? Neem dan ook een kijkje in de Discord omgeving. Hier kan je ook direct in contact komen met verschillende analisten en crypto enthousiastelingen die klaar staan om jou te helpen!