De prijs van Bitcoin (BTC) is maandagochtend 15 oktober met meer dan 10% gestegen toen het binnen een paar uur steeg van $6.300 naar net geen $7.000. Later in de ochtend daalde de BTC-prijs weer, maar sindsdien schommelt het rond de $6.650, waardoor het weer boven het niveau uitkomt dat Bitcoin had voordat het vorige week met $400 kelderde.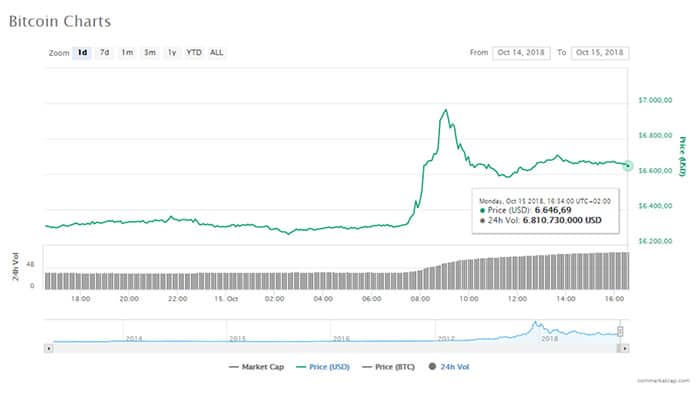 Een verklaring voor de prijsstijging van Bitcoin valt te vinden bij de onzekerheid van beleggers over de problemen bij cryptocurrency–exchange Bitfinex. De exchange heeft moeite om een nieuwe bank te vinden, en dat schept onrust bij haar gebruikers. De controversiële stablecoin Tether (USDT), dat in feite wordt beheerd door hetzelfde management als dat van Bitfinex, heeft altijd beweerd dat haar tokens met een ratio van 1:1 gesteund worden door de Amerikaanse dollar (USD), al wordt daar sinds de release van Tether (en zeker nadat het eerst $250 miljoen en later $50 miljoen aan extra tokens uitgaf) aan getwijfeld.
Door de problemen bij Bitfinex lijken een hoop beleggers weinig vertrouwen in hun '1:1 door de dollar gesteunde' USDT-tokens te hebben en hun fondsen te verplaatsen naar Bitcoin en andere cryptocurrencies zoals Ethereum (ETH: +5,0% in de afgelopen 24 uur) en Ripple (XRP: +6,75%). Met de prijsstijging van Bitcoin (BTC/USDT trading pair kwam op Bitfinex zelfs boven de $7.500 uit) kleuren nagenoeg alle tokens maandag 15 augustus groen. Tether, dat altijd $1 waard zou moeten zijn, behaalde met $0,925 echter een laagste punt in anderhalf jaar.
Het feit dat beleggers hun USDT-tokens omzetten in Bitcoin (BTC) of andere cryptocurrencies, in plaats van in andere stablecoins zoals de in september gereleasde Gemini dollar (GUSD) van de Winklevoss-tweeling of Paxos Standard (PAX), zou erop kunnen wijzen dat beleggers meer vertrouwen in de cryptomarkt krijgen. Barry Eichengreen, hoogleraar economie aan de Universiteit van Berkeley zei onlangs in een essay genaamd "The Stable Coin Myth", dat alle stablecoins, of ze nou een-op-een aan de dollar gekoppeld zijn of niet, niet "levensvatbaar" zijn.
Met de Bitcoin-prijs is ook het handelsvolume van BTC flink gestegen: waar dat gisteren nog rond de $3 miljard lag, is dat op het moment van schrijven ruim verdubbeld tot $6,8 miljard. De vraag is alleen voor hoe lang dat nog zal duren.
Wil je op de hoogte blijven van het laatste nieuws? Abonneer je dan op onze push-berichten, 
Facebook
– of 
Twitter
 pagina.
[ci-widget-v2]