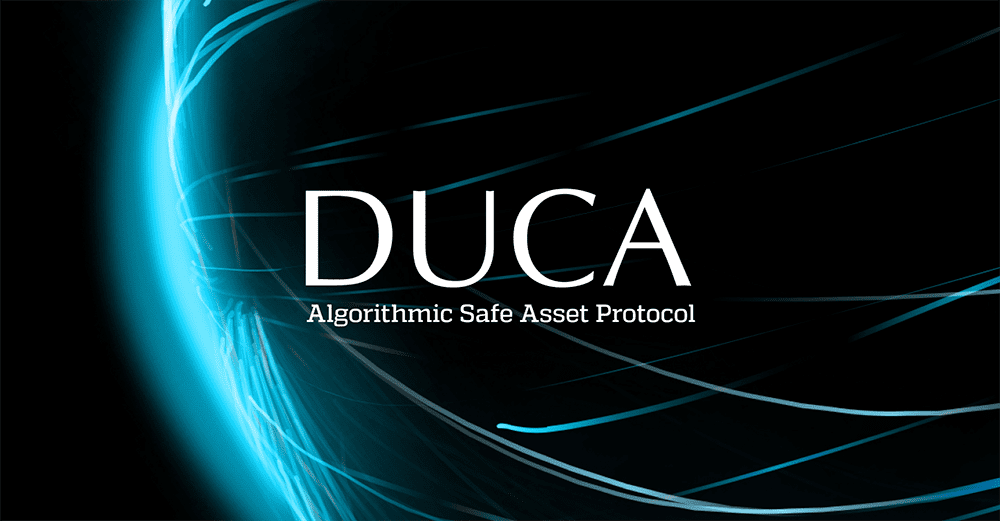 Wat is DUCATA?
DUCATA is een blockchain-bedrijf van Nederlandse bodem en gevestigd in Amsterdam. Het werd opgericht door Patrick Huisinga nadat hij concludeerde dat ons huidige economische systeem niet volstaat. Ons systeem zorgt er voor dat er geen eerlijk speelveld ontstaat en dat hebzucht wordt beloond. Vervolgens betekent dit dat winst altijd op de eerste plaats komt en datgene wat echt belangrijk is voor een mens van ondergeschikt belang is.
Volgens Huisinga is een alternatief echter mogelijk. Dat is waarom hij in 2020 DUCATA oprichtte. DUCATA is een bedrijf dat zich hard maakt voor dit alternatieve economische systeem. Bij DUCATA staan duurzaamheid en vooruitstrevendheid hoog in het vaandel.
"Het DUCATA-project is een streven om een nieuwe economisch model op te bouwen dat wij 'Social Capitalism' noemen. Dit model zal bovenop een bankeninfrastructuur met volledige reserves worden gebouwd wat een echte paradigmaverschuiving in de bankenwereld zal zijn."
Dit illustere Social Capitalism is het laatste onderdeel van de visie van het DUCATA-project om van de wereld een betere plek te maken. De eerste fase heeft betrekking op geld. Dat is tevens de fase waar we ons nu in bevinden. Een alternatief systeem kan namelijk niet gebouwd worden op dezelfde pijlers als het huidige systeem, dus men begint bij de basis.
De tweede fase luidt het ontstaan van de volwaardige full-reserve bank-infrastructuur in om vervolgens in de derde fase een volwaardig alternatief van het financiële systeem te bewerkstelligen en het doel van 'Social Capitalism' te bereiken. Op dat moment zal de economie niet langer enkel aandeelhouders dienen, maar eigenlijk iedereen, zelfs de planeet.
Bekijk hier ook onze Ducata review.
De algorithmische stablecoin
Tijdens de eerste fase staat bij DUCATA de DUCA token centraal. Dat is een algoritmische stablecoin die niet onder controle staat bij- en niet wordt uitgegeven door een centrale entiteit. Het is een cryptovaluta die 100% decentraal is en volledig transparant is. Dat betekent feitelijk dat iedereen DUCA kan maken en het aanbod van DUCA zelf kan controleren.
DUCA is natuurlijk niet de eerste algoritmische stablecoin op de markt. Wat maakt DUCA nou uniek? Er wordt geclaimd dat DUCA het beruchte stablecoin trilemma heeft opgelost. Al jaren wordt er wanhopig gezocht naar een stablecoin dat dit belangrijk probleem oplost.
Een stablecoin moet:
Een stabiele prijs hebben. Immers, de tokens zijn bedoeld om zaken mee te kopen, dus het is onwenselijk dat de waarde van stablecoins volatiel is.

Het moet efficiënt zijn; dat wil zeggen dat $1 aan stablecoins ook gedekt moet kunnen worden door $1 aan reserves. Het is niet haalbaar om meer dan $1 aan reserves te moeten hanteren.

Het moet volledig decentraal zijn.
Tot voor kort was er geen enkele stablecoin die kon claimen dat het alle drie van de bovenstaande eigenschappen bezat. Sommige stablecoins hebben twee van deze eigenschappen. Tether voldoet bijvoorbeeld aan de eerste twee, maar faalt de test voor het derde punt. DUCA claimt de allereerste stablecoin te zijn die dit wel kan en zodoende het stablecoin trilemma heeft opgelost.
Daarnaast is DUCA volgens het team stabieler dan welke stablecoin dan ook. Het biedt tevens een bescherming tegen de uit de pan rijzende inflatie en het is zelfs mogelijk om rente te behalen over DUCA tokens zonder dat het nodig is deze tokens vast te zetten in staking contracten.
In plaats daarvan komt er jaarlijks een leuke rente jouw kant op door simpelweg DUCA tokens vast te houden.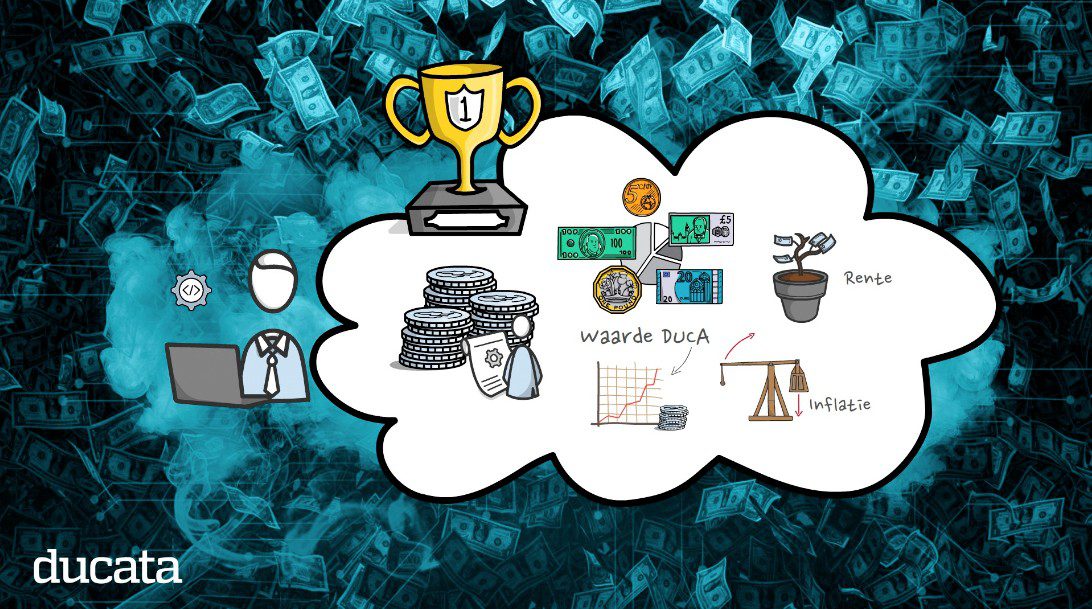 Hoe werkt DUCA?
De intrinsieke waarde van DUCA wordt door drie eigenschappen bepaald. Allereerst is dat de absolute stabiliteit van DUCA. Het is ontworpen om te beschermen tegen een waardevermindering van de ruilwaarde. Daarnaast wordt deze stabiele waarde beschermd tegen inflatie en als laatste genereert DUCA automatisch rente.
DUCA kan zo enorm stabiel blijven doordat het gebruik maakt van een 'mandje' waarin verschillende valuta zitten. De waarde van deze valuta samen vormen de basis voor de waarde van DUCA. Als een van die valuta, bijvoorbeeld de euro, plotseling in waarde daalt, wordt dit opgevangen door de andere valuta in de mand.
De bescherming tegen de inflatie wordt gewaarborgd door de CPI-cijfers van alle verschillende valuta toe te passen op de valuta in het mandje. Op basis hiervan wordt vervolgens bijvoorbeeld de samenstelling van de mand aangepast.
De rente die gebruikers krijgen voor het vasthouden van DUCA wordt algoritmisch bepaald. Naar eigen zeggen zal op deze manier niemand ter wereld financieel in de steek gelaten worden en bevordert het de wereldwijde financiële gelijkheid.
Door deze eigenschappen wordt DUCA ook wel een 'safe asset' genoemd. Dat zijn activa waarvan over een langere periode wordt bevestigd dat zij een stabiele waarde hebben, of zelfs stijgen in waarde.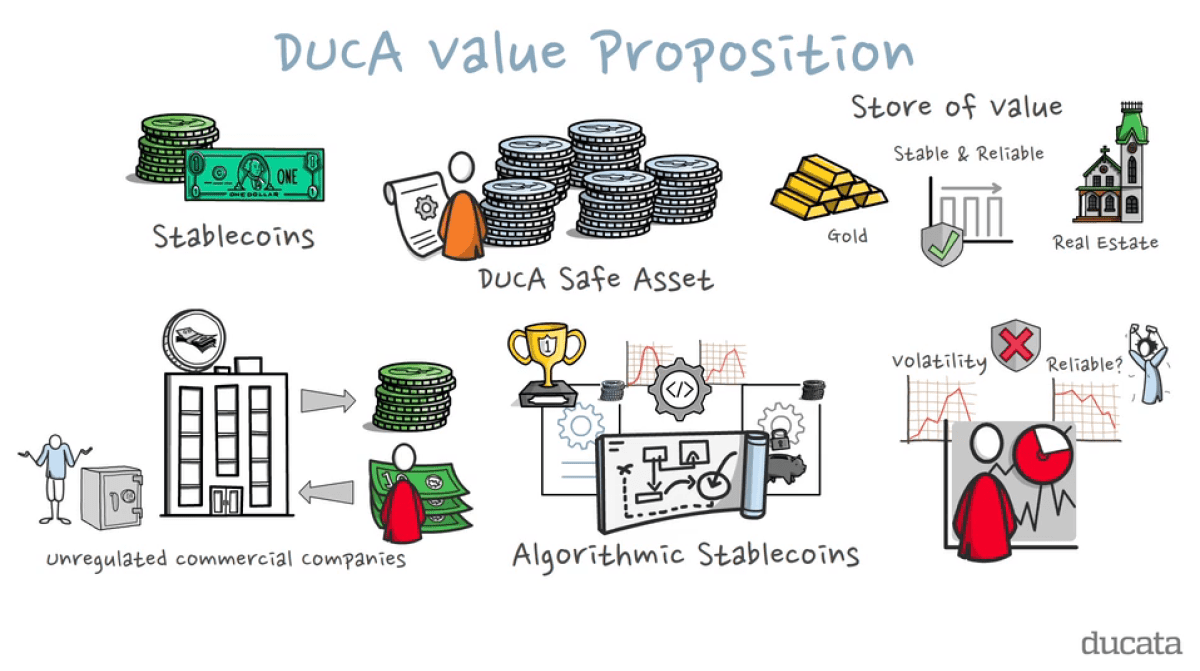 mDUCA
Het protocol heeft ook nog een andere token, naast de algoritmische stablecoin. Dat is DUCA Mint (mDUCA). Deze utility token wordt gebruikt bij het creëren van nieuwe DUCA tokens. Zoals al eerder werd vermeld, kan eigenlijk iedereen door middel van mDUCA nieuwe DUCA stablecoins de wereld in helpen. 
Dit systeem draait volledig op transparante smart contracts. Iedereen kan dus precies zien hoe het proces in zijn werk gaat.
De mDUCA tokens worden door de DUCATA Foundation uitgegeven en er bestaat een beperkte voorraad. De limiet is 10 miljard mDUCA tokens. De mDUCA token kan ook, in tegenstelling tot de DUCA stablecoin, in waarde stijgen. Naast de rente op je stablecoins kun je dus ook een aardig rendement verdienen als deze token in waarde stijgt.
De actuele marktwaarde van de mDUCA token bepaalt ook hoeveel DUCA tokens iemand ontvangt als hij of zij nieuwe stablecoins wil maken. Vervolgens worden de ingezonden mDUCA tokens als onderpand gebruikt voor de uitgegeven stablecoins en waarborgen ze op deze manier weer de stabiliteit van het gehele systeem.
DUCA stablecoins zullen te allen tijde voor 100% worden ondersteund door een equivalente waarde aan mDUCA. Ook heeft mDUCA een minimale waarde. Dat zorgt er natuurlijk voor dat de waarde van alle mDUCA tokens in de reserve niet lager kan worden dan alle DUCA in circulatie.
De lancering van DUCA
DUCATA is van plan om het DUCA-project te lanceren via een non-profit in Zwitserland. De wettelijke goedkeuring zal door de FINMA, de hoogste financiële toezichthouder van Zwitserland, worden gedaan. DUCATA heeft voor Zwitserland gekozen om een aantal redenen.
Allereerst is dat het crypto-vriendelijke klimaat in het land. De Zwitserse overheid is niet bang om crypto innovatie te steunen en om die reden is het voor een crypto start-up natuurlijk aantrekkelijk om zich hier te vestigen. Daarnaast behoort het financiële ecosysteem in Zwitserland tot een van de beste ter wereld.
Op dit moment is DUCA nog vol in ontwikkeling. Het project is dus nog niet af en ook niet gelanceerd. Om de laatste fase van deze ontwikkeling te kunnen bekostigen is DUCATA wel al van start gegaan met de eerste verkoopronde tijdens de private sale. 
Deelnemers stappen op deze manier extreem vroeg in en krijgen tokens toegewezen bij de lancering van het project. Vroege deelnemers krijgen voordelen die zij die later pas aansluiten niet krijgen, hetgeen natuurlijk  vrij kenmerkend is voor een private sale.
Op de website van DUCATA kun je eenvoudig zien wat de status van een mogelijke investering is. 
Voor meer informatie over DUCA kun je een kijkje nemen op de website van Ducata en kinderlijk eenvoudig een eigen account aanmaken. Hier krijg je vervolgens alle informatie die je nodig hebt tot je beschikking.