GoldRepublic is een Nederlandse onderneming die gespecialiseerd is in het beleggen in goud en andere edelmetalen. Het bedrijf helpt duizenden beleggers wereldwijd bij het winstgevend investeren in deze edelmetalen. Gezien ook deze markt onvoorspelbaarheid kent en met risico's komt, staat vertrouwen bij GoldRepublic centraal.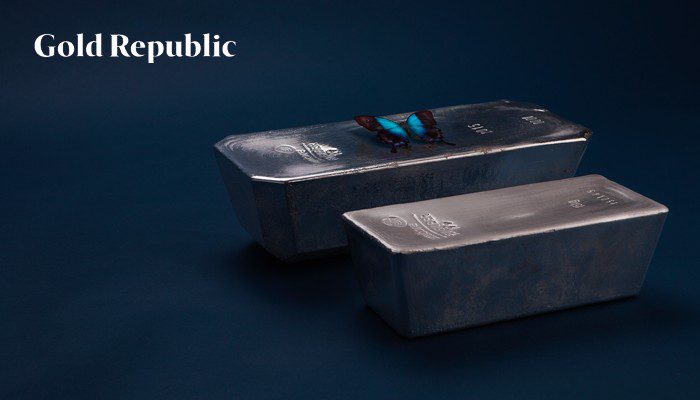 Toen GoldRepublic in 2008 begon waren de oprichters op zoek naar een alternatief voor 'normaal' beleggen. Goud bleek al snel een mooie optie te zijn, maar geheel vlekkeloos verliep het in het begin niet. De goudmarkt kent namelijk beperkte transparantie en louche zaakjes. GoldRepublic bracht daar al snel verandering in en ontving in 2010 als eerste goudverkoper ooit een AFM-vergunning. Daarnaast zijn zij de enige partij in Nederland die goud en andere edelmetalen op deze manier aanbiedt. Veilig en transparant zijn bij GoldRepublic altijd de kernwoorden. Hierdoor zijn ze in staat geweest om een mooi team neer te zetten en behoorlijke stappen te maken.
Een account aanmaken bij GoldRepublic
Een account aanmaken bij GoldRepublic is een eenvoudig proces. Klanten kiezen een gebruikersnaam en wachtwoord en bevestigen deze allebei. Daarna ontvangt de gebruiker een e-mail met een activeringslink. Nadat het account geactiveerd is via deze link is het direct te gebruiken.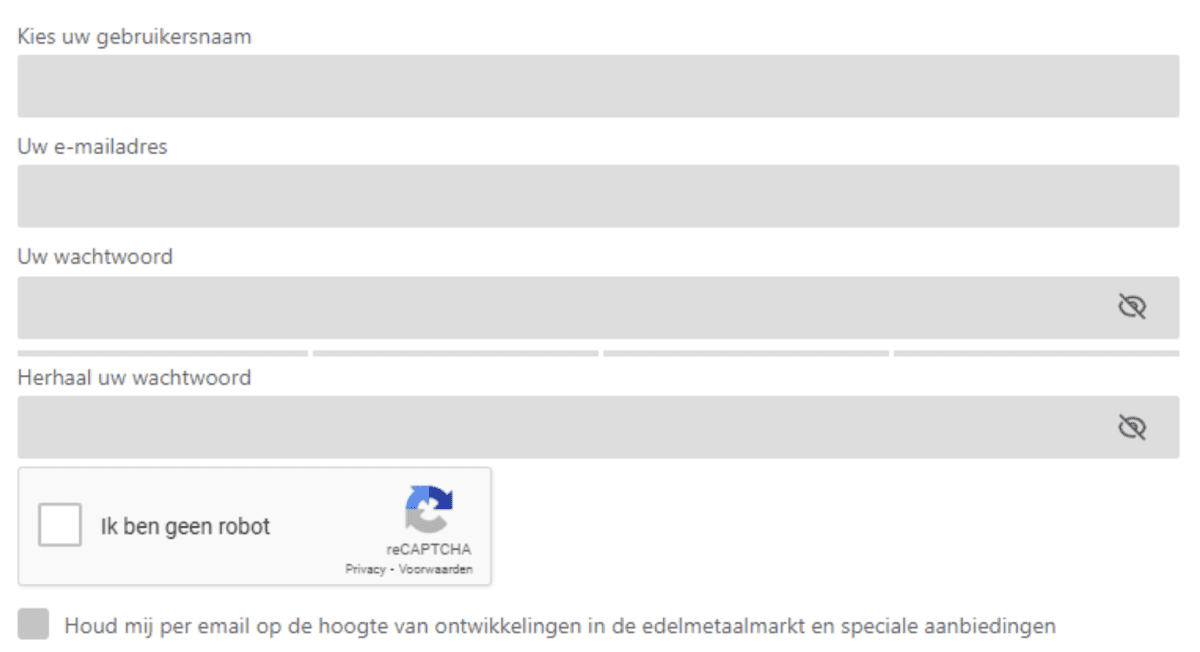 Het account is zoals gezegd te gebruiken na activering, maar er dient nog wel een validatieproces te worden doorlopen waarin gebruikers zich identificeren. Dit is op basis van Europese wetgeving waar GoldGepublic aan moet voldoen. Het validatieproces verloopt middels een officieel identiteitsbewijs met aansluitend een duidelijke profielfoto. Bij het valideren van het account laat de gebruiker ook persoonlijke gegevens, contactgegevens en bankgegevens achter. Wanneer het account is gevalideerd kan de gebruiker eenvoudig gebruikmaken van de diensten van GoldRepublic.
GoldRepublic klantbeoordelingen
GoldRepublic heeft tal van klantbeoordelingen gekregen met een gemiddelde beoordeling van 4,6 van de 5 sterren; Een uitstekende score die grotendeels gebaseerd is op de eenvoud, betrouwbaarheid en duidelijkheid die GoldRepublic biedt.
Ook op review-website Trustpilot wordt GoldRepublic beoordeeld met 4,6 van de 5 sterren. De marktinzichten die GoldRepublic deelt per e-mail worden geprezen evenals de goede (klanten)service die wordt geboden. De overzichtelijkheid van de website en de app komt ook hier weer naar voren.

Goudkoorts
Er bestaat ook een GoldRepublic YouTube-kanaal met behoorlijk veel activiteit. Met name de Goudkoorts podcast is populair, vanwege de kennis en inzichten die GoldRepublic hierin deelt. Goudkoorts behandelt edelmetalen, economische vraagstukken en bijbehorende analyses. Meerdere malen per week komt een nieuwe aflevering van de podcast uit. Abonnees van het YouTube-kanaal blijven op die manier altijd op de hoogte van de laatste ontwikkelingen.
GoldRepublic handelskosten
Als verdienmodel hanteert GoldRepublic handelskosten. Zo worden en transactiekosten gerekend voor de koop en verkoop van goud, zilver en platina. Deze bedragen in alle landen met een kluis 1% van het koop- of verkoopbedrag. Tot deze landen behoren Nederland, Duitsland en Zwitserland. De transactiekosten met betrekking tot het spaarplan zijn in deze landen 0,5% Een volledig overzicht van de transactiekosten die GoldRepublic hanteert volgt hieronder: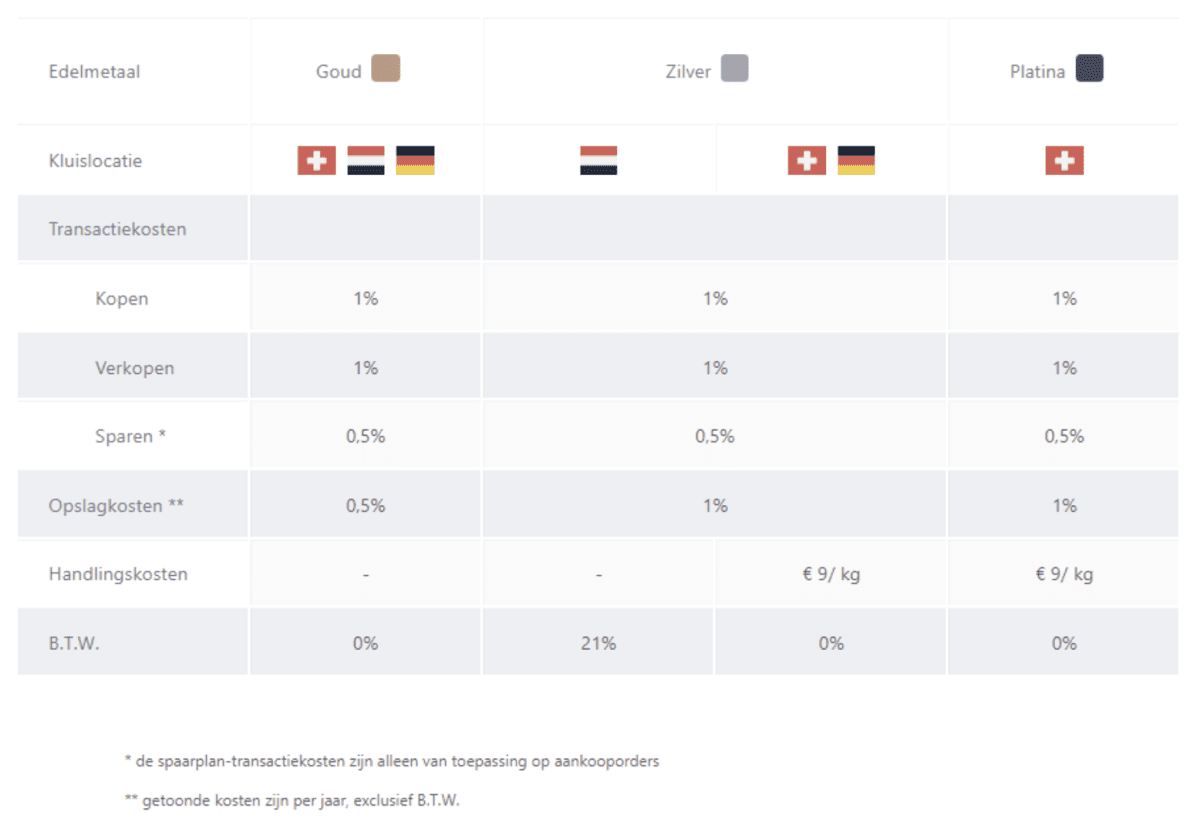 Conclusie
GoldRepublic is het bedrijf in Nederland wanneer het aankomt op de gemakkelijke handel in goud en andere edelmetalen. Zowel beginnende als ervaren beleggers zijn hier aan het juiste adres. Ze zijn de enige goudhandelaar in Nederland met een AFM-vergunning en daardoor ook de enige die hun diensten op de huidige manier kunnen aanbieden.
GoldRepublic heeft een duidelijk risico-overzicht op de website staan, zodat gebruikers altijd weten waar ze aan toe zijn. Daaruit blijkt ook dat gebruikers via verzekeringen voor veel zaken gedekt zijn. Ook is door een gebruikers aangekocht goud niet in te vorderen door een schuldeiser in het geval GoldRepublic onverhoopt failliet zou gaan.
Reviews van de website en de diensten van GoldRepublic zijn vrijwel allemaal positief en dat spreekt boekdelen. In de reviews is te lezen dat klanten van GoldRepublic onder andere tevreden zijn over de dienstverlening, klantenservice en informatieverschaffing van GoldRepublic. De aantrekkelijke handelskosten en de eerder benoemde AFM-vergunning volgen als kers op de taart. Al met al is GoldRepublic, voor degene die op een gemakkelijke manier wilt investeren in goud of andere edelmetalen, zeker het overwegen waard.