In 2018 werd er door ervaren crypto handelaren Michiel van der Steeg en Justin Kool een nieuw cryptocurrency-investeringsfonds gelanceerd: BlockchainTraders. Dit platform biedt particulieren en bedrijven een manier om blootstelling te krijgen aan de crypto-industrie, zonder dat zij hiervoor zelf ervaren handelaren of investeerders moeten zijn. BlockchainTraders biedt twee soorten fondsen aan die beide in het verleden al een behoorlijk aardig jaarlijks rendement hebben laten zien.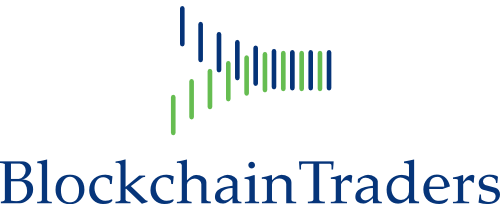 Voor een uitgebreide uitleg over het BlockchainTraders platform en wat het precies inhoudt kun je terecht op de bedrijfspagina van BlockchainTraders op Crypto Insiders. 
Hoe werkt het?
Als je een account maakt op bijvoorbeeld een crypto-exchange dan kun je meestal direct aan de slag met het investeren of handelen in cryptocurrencies. Hoe je dit wilt doen heb je op dat moment volledig in eigen hand. Jij bepaalt zelf waar je in wilt investeren en jij mag uiteraard ook zelf alle winst in eigen zak steken. De keerzijde hieraan is natuurlijk dat je ook verlies kan lijden, vooral als je niet een ervaren investeerder of handelaar bent.
Door te participeren in een van de twee fondsen bij BlockchainTraders investeer en handel je niet zelf in cryptocurrencies. Dit wordt volledig verzorgd door het ervaren team van BlockchainTraders. Voor bedrijven en particulieren zonder voorkennis van de crypto-industrie of zij die niet de tijd hebben om zich hierin te verdiepen is BlockchainTraders daarom een uitstekende oplossing.
Portfolio managers bij BlockchainTraders, Michiel van der Steeg en Justin Kool, hebben een indrukwekkend bewezen track record. Er kan daarom wel gesteld worden dat een eventuele investering in goede handen is bij BlockchainTraders.
Een belangrijke kanttekening is wel dat de fondsen van BlockchainTraders niet voor iedereen zijn weggelegd. De minimale inleg is namelijk €100.000.
Hoe kun je in een fonds investeren?
Het investeren in een van de twee beschikbare fondsen van BlockchainTraders gaat ook iets anders in zijn werk dan bijvoorbeeld een account aanmaken op een crypto-exchange. Op de site van BlockchainTraders kan je contact opnemen met BlockchainTraders. Vervolgens zal er een afspraak ingepland worden om in persoon de details van een eventuele investering door te nemen.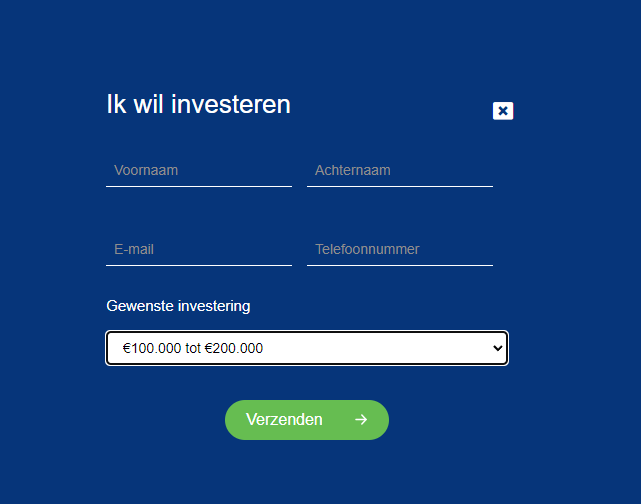 Participeren in een van de fondsen van BlockchainTraders is dus niet iets wat je op een willekeurige maandagavond even weet te regelen. Dit is een heel proces. Uiteraard is dat bij de bedragen die hiermee gemoeid zijn niet bepaald gek.
Jaarlijks rendement
De belangrijkste reden om te beleggen bij BlockchainTraders is natuurlijk het jaarlijkse rendement dat wordt beloofd. Er zit hierbij een behoorlijk verschil tussen de twee beschikbare fondsen en dit is niet geheel zonder reden. Het ene fonds draagt namelijk wat meer risico en heeft daardoor een hoger rendement. Het andere fonds probeert zoveel mogelijk risico te mijden en belooft een wat lager jaarlijks rendement.  Deze twee fondsen zijn het BlockchainTraders Liquidity Fund en het BlockchainTraders Growth Fund.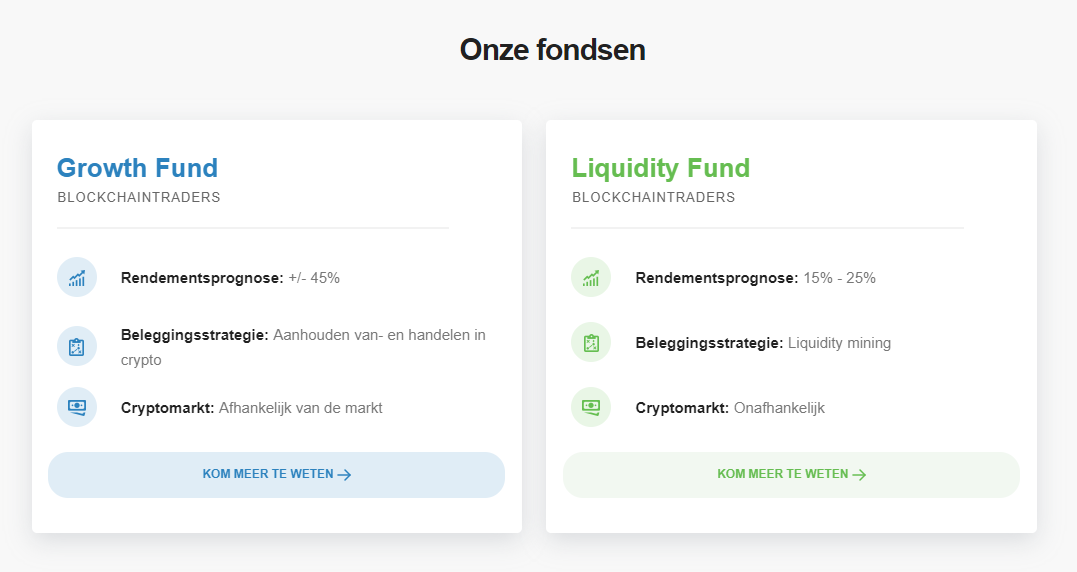 Growth Fund
Het Growth Fund is het meer traditionele fonds. Hier wordt door de portfolio managers van BlockchainTraders onder meer geinvesteerd in cryptocurrencies, worden cryptocurrencies ingezet om te staken en wordt er actief gehandeld in verschillende cryptocurrencies met geavanceerde trading bots.
Het rendement dat behaald kan worden met dit fonds is sterk gecorreleerd aan de prestaties van de crypto-markt. Dat is logisch natuurlijk, aangezien een groot deel van de winst in dit fonds geboekt wordt met het aanhouden van cryptocurrencies. In de praktijk betekent dit dat het moeilijk is om accuraat een rendementsprognose te doen.
Volgens BlockchainTraders is de rendementsprognose in een stress scenario dan ook een negatief rendement van -52%. In de wereld van crypto is een stress scenario natuurlijk helaas nooit uit te sluiten. In een ongunstig jaar kunnen investeerders alsnog zo'n 21% verwachten.
Indien de crypto-markt wel naar behoren presteert worden de rendementen al leuker. In een gematigd jaar kunnen investeerders in het Growth fund van BlockchainTraders maar liefst 164% per jaar tegemoet zien. In een gunstig scenario belooft BlockchainTraders een waanzinnig rendement van 500% per jaar. Kortom: Het Growth fund biedt astronomische rendementen aan investeerders. De keerzijde hieraan is dat het risico relatief hoog is. De portfolio managers van BlockchainTraders zijn uitermate gelouterd, maar ook zij kunnen een diepe bearmarkt niet tot magie omtoveren.
Liquidity Fund
Voor een fonds waar minder risico aan kleeft kan men kijken naar het Liquidity Fund. Dit is een fonds dat op een geheel andere manier werkt en waar minder afhankelijkheid van de crypto-markten bestaat. Door het zogeheten Liquidity Mining worden op een relatief veilige manier inkomsten vergaard. 
Dit betekent vanzelfsprekend dat het rendement bij dit fonds lager ligt. In een stress-jaar is het maximale verlies vastgesteld op slechts -14%. In een gunstige markt ligt het maximale te behalen rendement op 25%. Hoewel deze cijfers iets minder indrukwekkend zijn, ligt het risico aanzienlijk lager. Dit kan voor risk-averse investeerders natuurlijk van groot belang zijn.
Beide fondsen hanteren ook een prestatievergoeding. Dit is minimaal 15% van het positief behaalde rendement. 
Is BlockchainTraders veilig?
Alvorens een vermogensbeheerder gekozen wordt is het natuurlijk belangrijk om eerst vast te stellen of het platform wel echt veilig is. In het geval van BlockchainTraders is het antwoord op deze vraag simpel: Ja. BlockchainTraders staat netjes geregistreerd bij de Autoriteit Financiële Markten (AFM), de Kamer van Koophandel (KvK nummer: 71065547) en is gevestigd in Apeldoorn.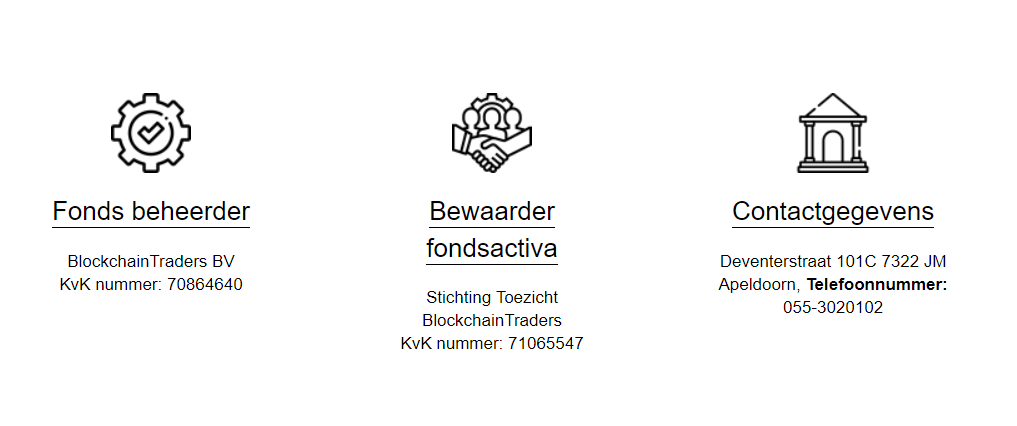 Conclusie
BlockchainTraders is in het kort een uitstekende cryptocurrency-vermogensbeheerder en komt ook nog eens van Nederlandse bodem. Het bestaan van twee verschillende fondsen zorgt ervoor dat investeerders altijd het meest geschikte fonds kunnen kiezen. De beloofde rendementen zijn ronduit goed en uit het verleden blijkt dat deze beloftes ook daadwerkelijk worden nagekomen. Menig traditioneel vermogensbeheerder kan een puntje zuigen aan de rendementen die BlockchainTraders weet te behalen.
Hoewel door de hoge instapdrempel BlockchainTraders niet voor iedereen is weggelegd, is het voor vermogende particulieren, bedrijven of instituties die blootstelling willen krijgen aan de crypto-industrie absoluut het overwegen waard.