Coinmerce is een Nederlandse partij die sinds de bullrun van 2017 actief is in de markt. In korte tijd zijn ze uitgegroeid tot een groot platform waar je inmiddels terechtkunt voor meer dan 170 verschillende cryptocurrency's. Met die munten is het mogelijk om een passief inkomen te verdienen door ze uit te lenen, te staken of zelfs te actief te laten verhandelen door trading bots. Op deze pagina lopen we alle voor- en nadelen van Coinmerce langs, zodat jij kunt bepalen of dit wellicht jouw toekomstige handelshuis is.
👉🏼 Ontvang €10 gratis aan bitcoin als je een account aanmaakt bij Coinmerce

Betrouwbaarheid Coinmerce
Als het over de betrouwbaarheid van Coinmerce gaat zit je bij deze partij wel goed. Coinmerce is namelijk geregistreerd bij De Nederlandsche Bank en is dus onderworpen aan Nederlands toezicht. Dat is iets wat we van veel internationale partijen niet kunnen zeggen. Doorgaans zitten dat soort partijen nog weleens gevestigd op gure eilanden in de Caraïbische Zee, waardoor het lastig is om ze te pakken als ze besluiten er met het geld vandoor te gaan. Het enige nadeel is dat Coinmerce en de crypto-sector in het algemeen niet kwalificeren als banken en dat jouw tegoeden daardoor niet beschermd zijn in het geval van een faillissement. Als jouw bank omvalt is er een garantiestelsel, maar voor de cryptowereld bestaat dat (nog) niet.
Aanbod Coinmerce
Je kunt bij Coinmerce terecht voor een aanbod van meer dan 170 verschillende cryptocurrency's. Behalve dat je in al die munten kunt handelen (ook geautomatiseerd) is het mogelijk om wat extra rendement te pakken door ze uit te lenen en door munten te staken. Je kunt Coinmerce bereiken via de website, maar het handelsplatform heeft ook een app die werkt op Apple en Android telefoons. Een account maken is volgens de website een fluitje van een cent. Binnen vier minuten kun je, inclusief de verificatie, aan de slag op het platform en beginnen met je cryptoreis.
De handelskosten bij Coinmerce zijn relatief hoog, met een transactiefee die kan oplopen van 0,4 tot 2,5 procent van de transactie. Op de website geven ze aan dat de kosten bij een laag volume op de cryptocurrency in kwestie zelfs verder kunnen oplopen.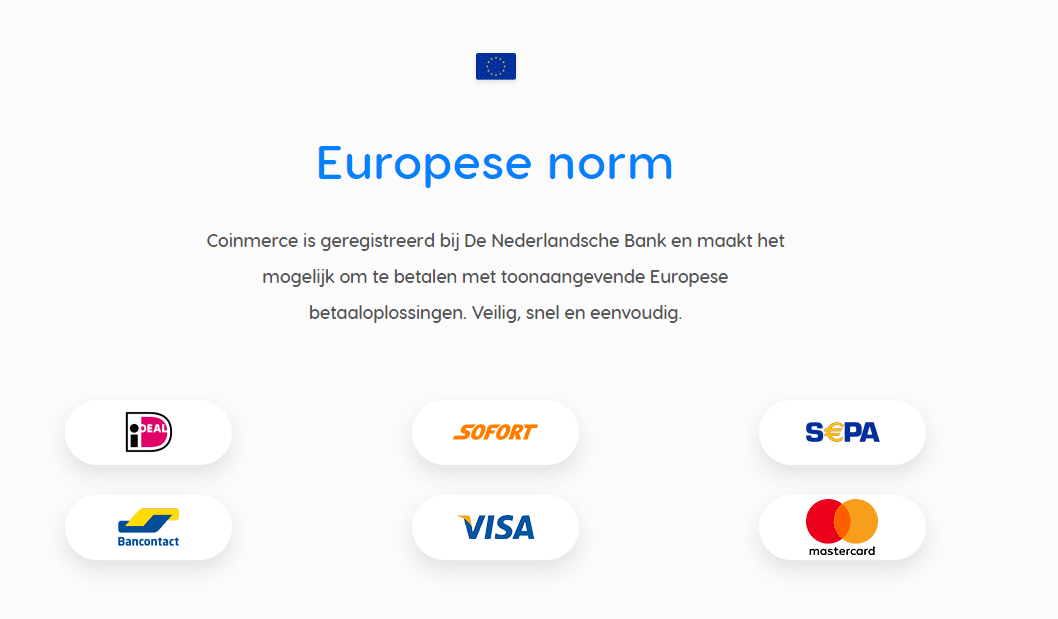 Geautomatiseerd handelen
Een interessant optie die Coinmerce voor gebruikers heeft is "geautomatiseerd handelen". Met deze optie kun je de investeringsstrategieën van "trading bots" volgen die automatisch koop- en verkooporders voor jou invoeren. Dat is een gave optie voor mensen die zelf niet de tijd of kennis hebben om actief met hun portfolio bezig te zijn. Coinmerce geeft in de risico-disclaimer terecht aan dat resultaten uit het verleden geen garanties bieden voor de toekomst. Er worden op het platform dan ook geen verklaringen afgegeven dat bepaalde strategieën gegarandeerde winsten opleveren. "Alle risico's verbonden aan het gebruik van de beleggingsstrategieën die worden aangeboden door Coinmerce of via (een) derde partij(en) blijven voor rekening van de gebruiker", zo schrijft Coinmerce in de disclaimer.
Wat ons betreft is dit een leuke toevoeging aan het platform, maar is het belangrijk om de waarschuwing serieus te nemen. Neem met dit soort dingen nooit teveel risico en activeer op deze manier alleen kapitaal dat je bereid bent te verliezen. Zoals Coinmerce in de disclaimer aangeeft ben jij degene die verantwoordelijk is voor jouw keuzes en het is belangrijk om dat goed in je oren te knopen.
Coinmerce Earn
Coinmerce Earn is een manier om jouw cryptovermogen aan het werk te zetten en daarmee een "passief inkomen" te verdienen. We zetten de woorden passief inkomen hier bewust tussen haakjes, omdat er natuurlijk wel een risico aan verbonden is. Een passief inkomen klinkt al snel als een veilige manier om extra rendement te pakken. Maar dat rendement komt natuurlijk niet gratis jouw kant op waaien. Tegenover dat rendement staat namelijk dat Coinmerce jouw tegoeden uitleent aan derden die daar vervolgens risico mee nemen. Coinmerce krijgt voor die activiteit een rentepercentage uitgekeerd waar jij vervolgens ook een deel van terugkrijgt.
"Bij deelname aan Coinmerce Earn bestaat de kans dat de derde partij insolvent raakt, het beoogde rendement niet heeft behaald of er verlies wordt gemaakt. Dit kan tot gevolg hebben dat de gebruiker (een deel van) zijn voor Coinmerce Earn ter beschikking gestelde cryptocurrency's verliest", waarmee ook Coinmerce in de eigen risico-disclaimer bevestigt dat het Earn-programma geen gegarandeerd passief inkomen oplevert. Ook voor deze optie op het handelsplatform is het aan jou om te bepalen of het geboden rendement opweegt tegen het risico dat je loopt.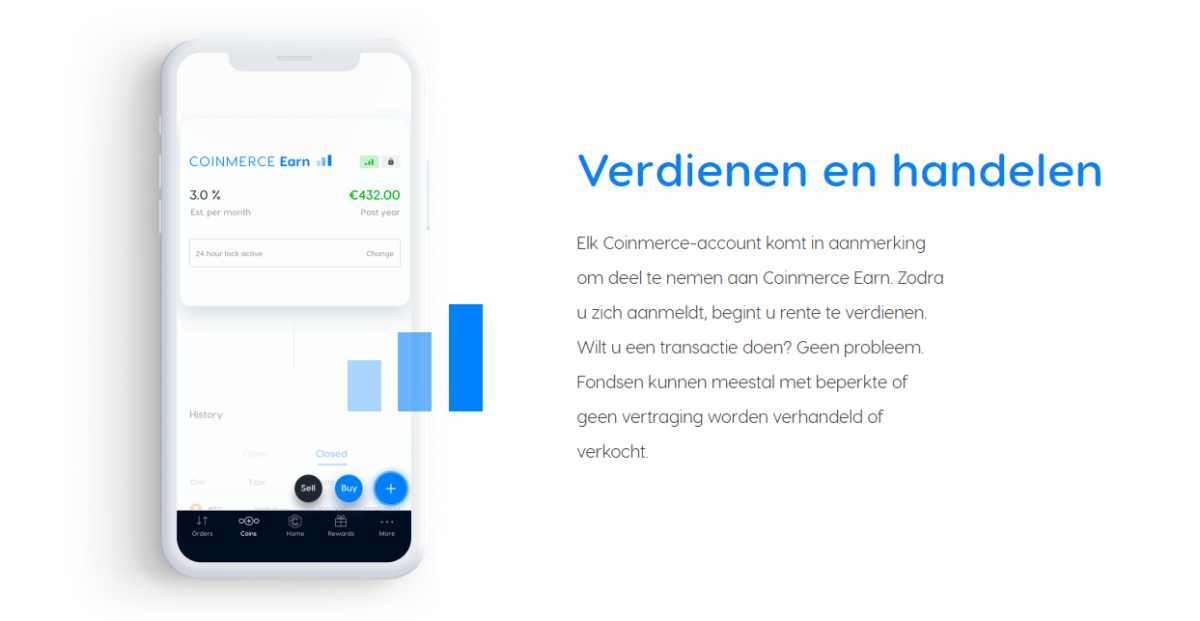 Staking bij Coinmerce
Als je al een tijdje meeloopt in de industrie heb je vast weleens van staking gehoord. Het is bij Coinmerce ook mogelijk om jouw Proof-of-Stake munten te staken. Hiermee zet je ze vast en krijg je daar vervolgens een percentage over als rendement. Normaal gesproken moet je om een cryptocurrency te staken behoorlijk veel technische stappen zetten. Coinmerce neemt dat in dit geval volledig voor jou over, waardoor je op het platform alleen maar hoeft aan te geven dat jij jouw cryptovermogen wil staken. Coinmerce regelt vervolgens alles voor je op de achtergrond. Het enige risico wat je hierbij loopt is dat de waarde van de Proof-of-Stake coin hard daalt en dat daarmee jouw cryptovermogen verdampt. In het geval van Ethereum 2.0 is het bijvoorbeeld pas mogelijk om jouw stake uit het platform te halen na de overgang van Ethereum naar Proof-of-Stake. Tot die tijd zitten jouw ethers vast en kun je niet verkopen, ook al daalt of stijgt de koers nog zo hard.
Goed geïnformeerd aan de slag
Coinmerce is geen bank en dus ook niet als zodanig gereguleerd. Dit betekent dat jouw account niet kwalificeert als bankrekening of deposito, waardoor je buiten het bereik van de garantiestelsels valt. Als Coinmerce in een slecht markt omvalt, dan krijg je daar van de overheid geen compensatie voor, zoals dat bij een normale bank wel het geval is. "De gebruiker loopt daarom het risico gelden en waarden te verliezen. Daarnaast zijn cryptocurrency's markten en beurzen niet gereguleerd met dezelfde controles of bescherming van de klant die beschikbaar zijn bij beleggen in aandelen, opties, futures of vreemde valuta", aldus Coinmerce in de risico-disclamer.
Het bovenstaande stuk tekst is het belangrijkste argument tegen het onderbrengen van je cryptovermogen bij een handelsplatform. Als het platform in kwestie omvalt ben jij jouw cryptovermogen in de meeste gevallen kwijt. Bitcoin is ooit bedacht als een digitale munt die je volledig in eigen beheer kunt bewaren en voor de meeste cryptocurrencies is dat ook de meest veilige optie. Ons advies is dan ook om nooit jouw volledige cryptovermogen bij een beurs onder te brengen. Maar daar moeten we aan toevoegen dat het pas wijsheid is om een eigen wallet te gebruiken als je daar helemaal klaar voor bent. Als je niet weet hoe wallets precies werken, is er immers ook een gevaar dat je jouw cryptovermogen verliest door een eigen fout.
Ben je nieuw in de cryptowereld dan is Coinmerce een hele interessante partij om op te handelen. Met een fysieke winkel, de mate van klantenservice en de goed gevulde kennisbank kan je veilig en goed geïnformeerd aan de slag.
Ook met bovenstaande kritische noot in het achterhoofd is Coinmerce een van de meest professionele aanbieders van Nederlandse bodem en zullen vooral de beginnende investeerders en handelaren zich bij Coinmerce thuisvoelen.
👉🏼 Ontvang €10 gratis aan bitcoin als je een account aanmaakt bij Coinmerce