Bitvavo is een Europese exchange voor cryptovaluta, waarvan het hoofdkantoor bovendien in Nederland zit. Het is momenteel het goedkoopste handelsplatform van Nederland, en het aanbod bestaat uit ruim 150 cryptovaluta. In deze review lees je alles wat je nodig hebt om wegwijs te zijn op Bitvavo.

Lage kosten
Zoals je ook op onze exchange-pagina over Bitvavo kunt lezen hanteert Bitvavo relatief lage handelskosten. Bij een maandelijks volume tot 100.000 euro zijn de taker– en maker fees respectievelijk 0,25% en 0,15%, terwijl de kosten boven dat bedrag af blijven nemen. Met iDEAL maak je direct en gemakkelijk euro's over naar je Bitvavo-account.
| | | |
| --- | --- | --- |
| Handelsvolume (30 dagen) | Taker fee | Maker fee |
| € 0+ | 0,25% | 0,15% |
| € 100.000+ | 0,20% | 0,10% |
| € 250.000+ | 0,16% | 0,08% |
| € 500.000+ | 0,12% | 0,06% |
| € 1.000.000+ | 0,10% | 0,05% |
| € 2.500.000+ | 0,08% | 0,04% |
| € 5.000.000+ | 0,06% | 0,04% |
| € 10.000.000+ | 0,05% | 0,03% |
| € 25.000.000+ | 0,04% | 0,03% |
Het maximum ligt hierbij op 10.000 euro per transactie, maar als je voor een SEPA-overboeking kiest is er geen limiet. Wel duurt dit doorgaans iets langer. SEPA Instant Transfer verhoogt IDEAL's limiet naar 15.000 euro per transactie, en zoals de naam al suggereert is deze overboeking ook direct. Voor alle drie genoemde betaalmethoden worden er geen kosten in rekening gebracht. Alle handelskosten en kosten voor banktransacties vind je hieronder.
| | | | |
| --- | --- | --- | --- |
| Betaalmethode | Totale fees | Relatieve fees | Max bedrag |
| Bancontact | € 0,00 | 0,00% | € 10.000 |
| EPS Überweisung | € 0,00 | 1,75% | € 1.000 |
| Giropay | € 0,00 | 1,75% | € 1.000 |
| iDEAL | € 0,00 | 0,00% | € 10.000 |
| MyBank | € 0,00 | 1,50% | € 5.000 |
| SEPA | € 0,00 | 0,00% | – |
| SEPA Instant transfer | € 0,00 | 0,00% | € 15.000 |
| Sofort | € 0,00 | 2,25% | € 1.000 |
Account aanmaken
Om te handelen op Bitvavo hoef je onder een storting van 5.000 euro niet je identiteit te verifiëren. Onder dat bedrag kun je ook gemakkelijk de (gratis) app gebruiken, waarmee de overstap naar investeren in crypto nog iets gemakkelijker is. Alles wat je nodig hebt is je voor- en achternaam en een e-mailadres en wachtwoord. Zoals je ook kunt lezen op onze exchange-pagina gelden boven de 5.000 euro Europese wetten rondom Know Your Customer (KYC) en de anti-witwasmaatregelen (AML). Dat betekent dat je je identiteit moet verifiëren. Je kunt dat doen door een selfie te maken terwijl je je ID-bewijs vasthoudt. Dat kan een paspoort, rijbewijs of een ID-kaart zijn.
Meld je direct aan bij Bitvavo en verhandel de eerste €1.000 aan cryptocurrency gratis.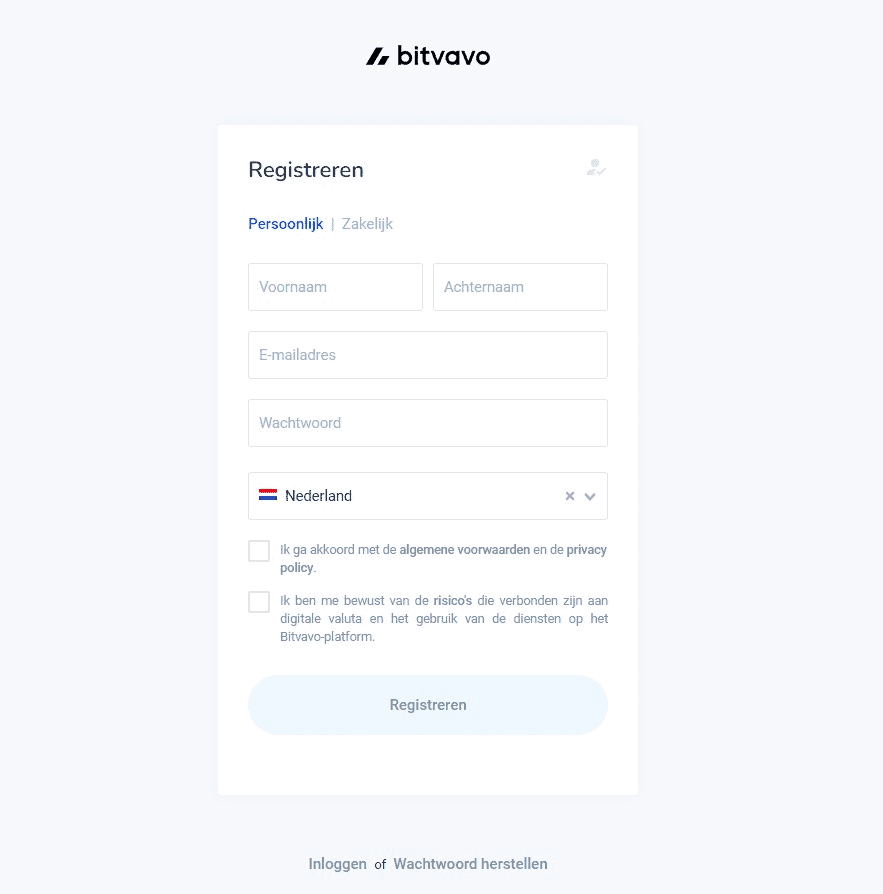 Veiligheid
Het mag benadrukt worden dat Bitvavo uitsluitend toegankelijk is vanuit Europese landen. Als je in het buitenland woont of als je veel reist, dan zul je dus voor een andere exchange moeten kiezen of gebruik moeten maken van een VPN. Met laatstgenoemde zul je via je e-mailadres aan moeten tonen dat het gebruikte apparaat ook echt van jou is, zodat het bedrijf kan voorkomen dat je account leeggehaald wordt door hackers. We hopen dat de exchange in de toekomst ook toegankelijk zal zijn vanuit het buitenland, ook zonder VPN. Het ligt voor de hand dat het platform dan een stuk harder zou kunnen groeien. Hieronder vind je de volledige lijst met ondersteunde landen:
| | | |
| --- | --- | --- |
| België | Litouwen | San Marino |
| Bulgarije | Liechtenstein | Slovenië |
| Cyprus | Malta | Slowakije |
| Denemarken | Monaco | Spanje |
| Finland | Nederland | Tsjechië |
| Griekenland | Noorwegen | Zweden |
| Hongarije | Oostenrijk | Zwitserland |
| Italië | Polen | |
| Kroatië | Portugal | |
Naast de oplettendheid rondom IP-adressen houdt Bitvavo ook in de gaten van en naar welke wallets cryptovaluta wordt gestuurd. Wallet-adressen moet je namelijk eerst per e-mail verifiëren als je ze voor het eerst aan de exchange koppelt. Dat is vereist vanuit Nederlandse en Europese regulaties, maar het is ook een extra beveiligingsmaatregel die je extra beschermt. Als laatste heeft Bitvavo ook ondersteuning voor tweefactorauthenticatie (2FA).
Wat het nóg een stap veiliger maakt is dat het grootste deel van elk van Bitvavo's tokens in cold storage wordt bewaard. Dat maakt dat er gewoonweg niet zoveel te stelen valt. Erg veilig dus, maar we kunnen ons voorstellen dat het ook een ietwat negatieve invloed kan hebben op de liquiditeit. De supply in cold storage zal veranderlijk zijn en zal dus op basis van wat er verhandelbaar is worden aangepast, maar vermoedelijk is dit niet geregeld als je één keer met je ogen knippert.
Wat niet helemaal duidelijk is is hoeveel procent van elke munt in cold storage zit. Enige transparantie hierover zou erg fijn zijn. Het zou het ook mogelijk maken om er bijvoorbeeld zelf voor te kiezen om Bitvavo je munten in een hardware wallet te plaatsen, zodat je vrijwel zeker beschermd bent tegen internetcriminelen. In elk geval vinden we het een erg tactische maatregel waar andere exchanges echt een voorbeeld aan kunnen nemen.
Het handelsplatform
De exchange biedt inmiddels al meer dan 150 cryptocurrencies aan, een flink aantal dat bovendien hard is gegroeid de afgelopen paar jaar. Het ligt voor de hand dat dit aantal zal blijven groeien. Zo nu en dan worden er tokens toegevoegd. Bitvavo's aanbod is een mix tussen de coins die elke exchange zou moeten hebben, tokens die op niet zoveel plekken te vinden zijn en populaire, kleinere tokens waar veel vraag naar zal zijn. Het platform stond er voorheen niet om bekend ook tokens te leveren die minder fundamentele waarde toevoegen, maar tegenwoordig kun je er ook terecht voor een selectie memecoins.
Het is niet de grootste exchange die je kunt vinden en je kunt soms dus tegen liquiditeitsproblemen aanlopen. Ook kun je alleen kopen met euro's en niet met bijvoorbeeld dollars. Dat geldt ook als je een token voor een andere wilt verkopen. Je kunt bijvoorbeeld niet bitcoin verkopen voor ether of andersom. Dan moet je het ene verkopen, en het andere terugkopen. Dat zal ook met liquiditeit te maken hebben, er zal simpelweg niet genoeg liquiditeit zijn om zulke handelsparen mogelijk te maken.
Naast de simpele interface waar je uitgebreider over kunt lezen in onze exchange-pagina over Bitvavo is er ook een geavanceerde modus. Die heeft een vrij complete grafiek met alle toeters en bellen. Je kunt voor een candlestick-grafiek kiezen, maar ook voor bijvoorbeeld een lijngrafiek en voor Heikin Ashi-candles. Qua indicatoren is bijna het volledige aanbod van TradingView aanwezig, met uitzonderingen van de community-indicatoren en indicatoren waar je bij TradingView voor moet betalen. Onderaan vind je een lijst met openstaande en gevulpan style="font-weight: 400;">de orders, en je hebt ook toegang tot een orderboek en bijbehorende dieptegrafiek. Die dieptegrafiek toonde bij ons een kleine softwarebug, hij zoomt namelijk niet helemaal goed uit. Dat zal gelukkig gemakkelijk verholpen kunnen worden.
De simpele modus heeft alleen ondersteuning voor 'direct' kopen, waarbij je gewoonweg tokens koopt voor de prijs die op dat moment geldt. Dat is een market order. In de geavanceerde modus kun je ook kopen en verkopen met behulp van limit- en stop limit-orders. Daarmee bepaal je zelf vanaf welke prijs je koopt, en wanneer je de order niet wilt laten vullen. Vanuit de geavanceerde modus kun je de orders ook gemakkelijk zien in de grafiek en ze stopzetten als de plannen veranderen.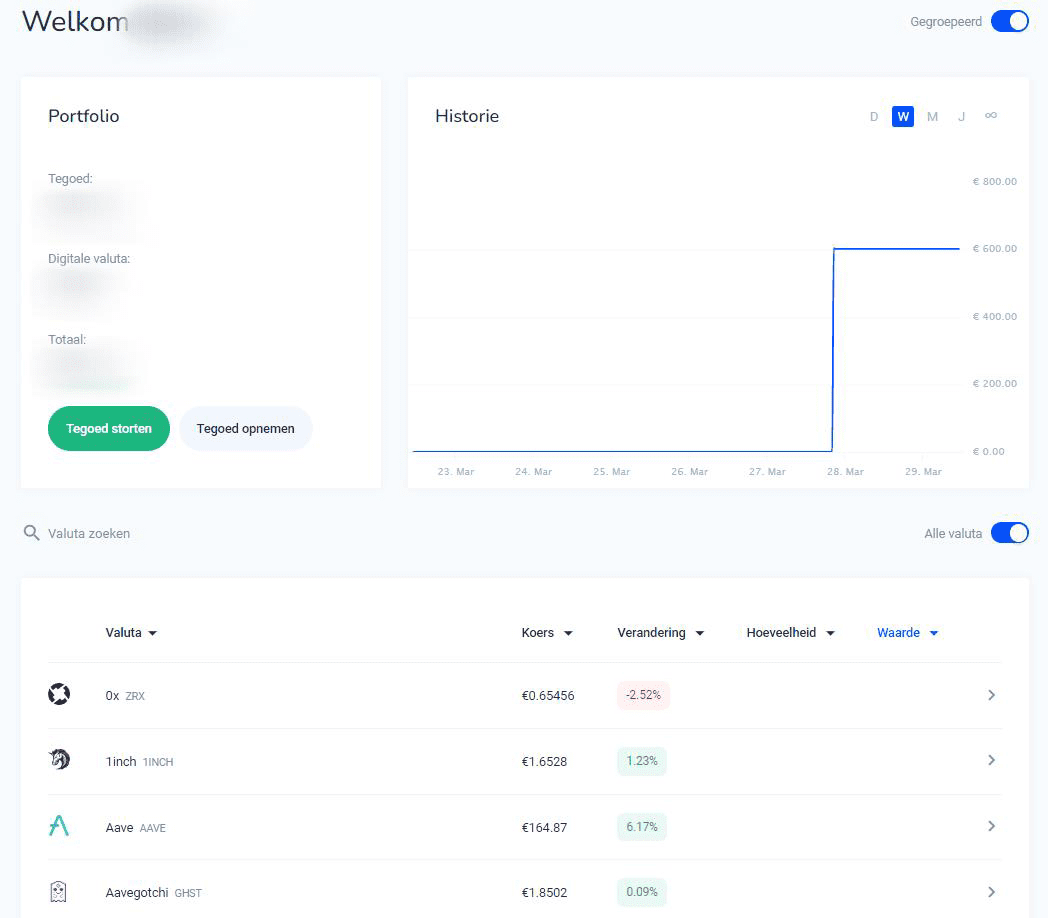 Als kers op de taart heeft Bitvavo ook een app voor Android en iOS. De app is erg overzichtelijk en gemakkelijk in gebruik. De geavanceerde modus is alleen toegankelijk via de computer, maar op een klein schermpje is het nut van een volledige grafiek toch erg beperkt. Euro's overmaken gaat gemakkelijk en snel vanuit de app. Dankzij de aanwezigheid van een donkere modus (dark mode) spaar je je ogen in minder goed verlichte ruimtes.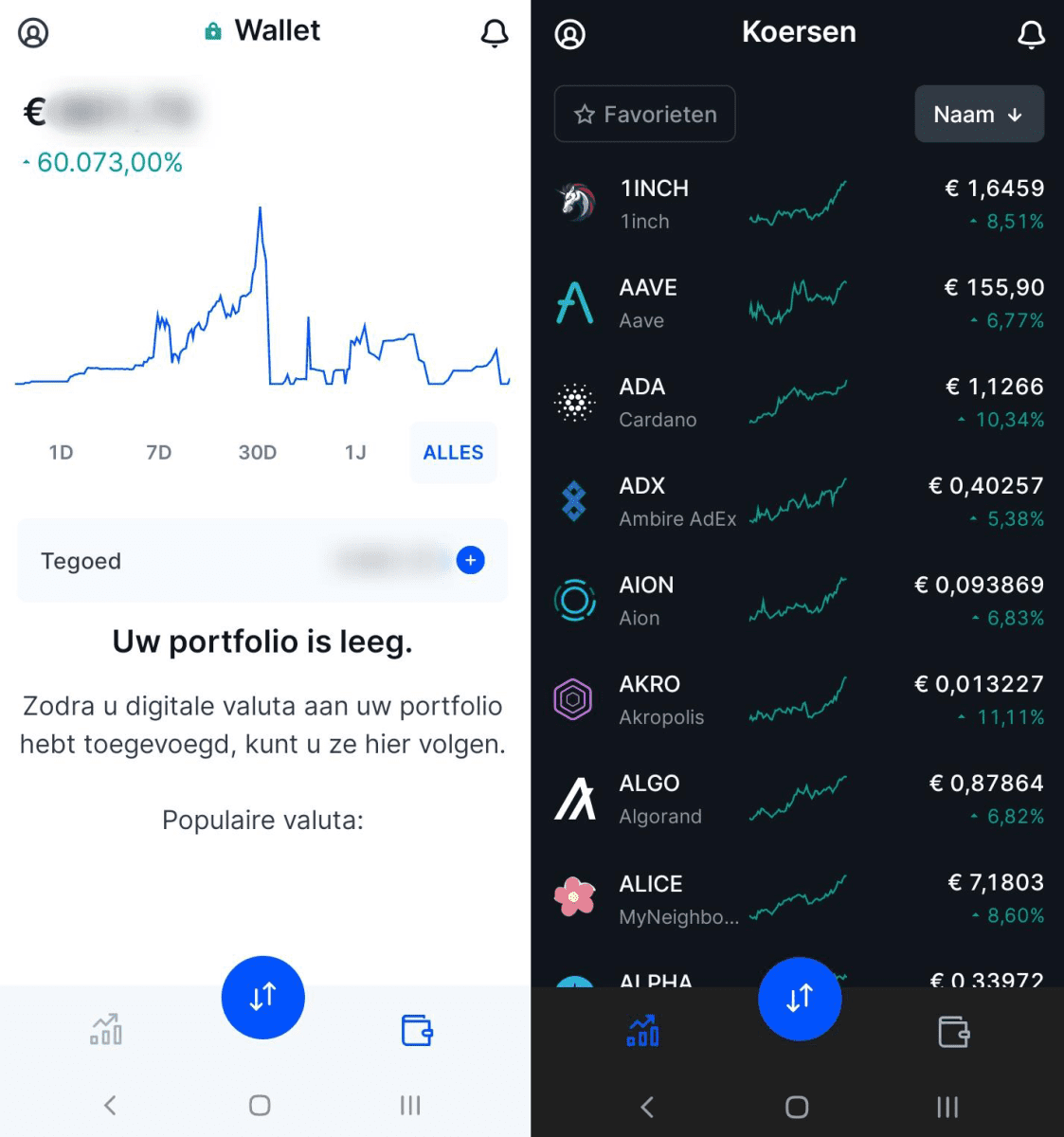 Je kunt de lijst met coins filteren op prijs, welke token het best heeft gepresteerd, op alfabetische volgorde en op hoogste handelsvolume. Je kunt ook een lijst met favorieten aanmaken. Je hebt dus alles bij de hand om een goed overzicht van je portfolio te hebben.
Conclusie
Al met al is Bitvavo dé go-to exchange als je op zoek bent naar een Nederlands platform met een aanbod dat ieder type crypto-investeerder aanspreekt, en of je nou net begonnen bent, actief handelt of een HODL-strategie hebt. Het enige echte verbeterpunt dat we zijn tegengekomen is Bitvavo's schaal. Het platform had groter kunnen zijn, maar hé, als dat het grootste probleem is, wat hebben we dan nog te klagen?
Meld je direct aan bij Bitvavo en verhandel de eerste €1.000 aan cryptocurrency gratis.