Bexplus is een crypto derivaten handelsplattform. Het heeft sterk de focus op het handelen in derivaten zoals futures en is daarom bij uitstek geschikt voor leverage traders. De exchange werd in 2017 opgericht door een groep financiële experts. Deze groep heeft meer dan 50 jaar ervaring op het gebied van finance en futures trading.
Dat betekent dat Bexplus garant staat voor een extreem snelle uitvoering van orders en een lage latency. De vertraging tussen het plaatsen van een order en het uitvoeren van dit order is vrijwel niet bestaand.
De Bexplus exchange is de afgelopen jaren hard gegroeid en het is ondertussen uitgebreid naar een grote hoeveelheid landen. Het staat geregistreerd in Saint Vincent en Bexplus heeft kantoren in onder meer Singapore, Japan, de Verenigde Staten en Brazilië.
Lees ook onze Bexplus review!
Leverage trading
Aan de basis van het Bexplus handelsplatform ligt leverage trading. Dat is het handelen met een hefboom om zo meer winst te kunnen behalen. Het houdt in dat handelaren een grotere blootstelling kunnen krijgen aan de schommelingen van de koersen. Daarnaast kan er zelfs geld worden verdiend als de koersen zakken met een short positie.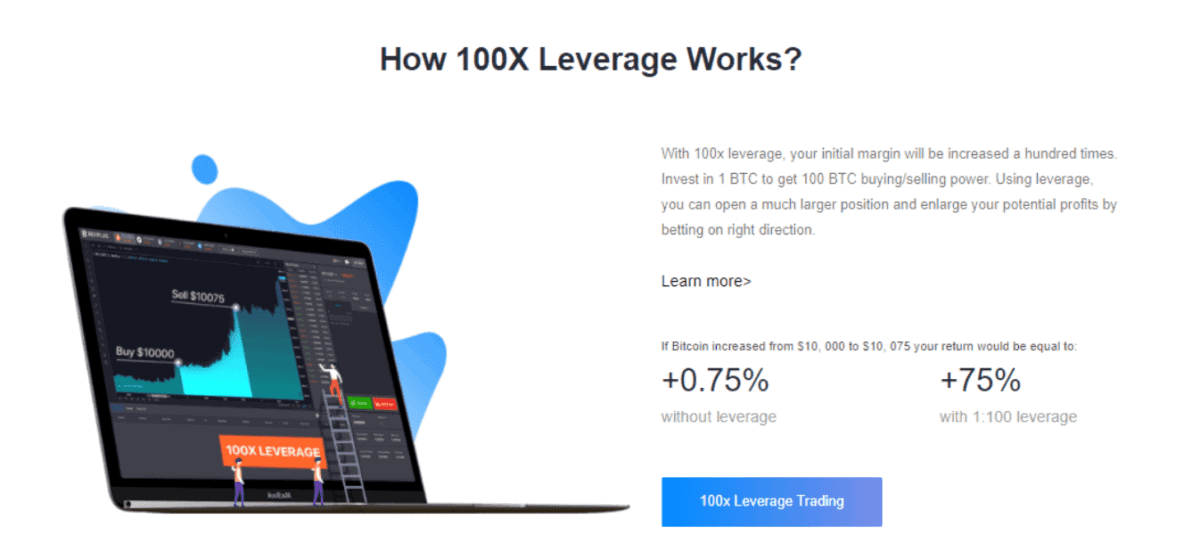 Bexplus biedt een leverage tot maar liefst 100x! Het gebruiken van een dusdanig hoge leverage is behoorlijk risicovol, maar gelukkig heeft Bexplus ook een ingebouwde beveiliging. Zo kunnen handelaren nooit meer geld verliezen dan dat zij hebben geïnvesteerd, hetgeen bij handelen met een hoge leverage belangrijk kan zijn.
Daarnaast is Bexplus is een crypto only exchange. Dat betekent dat gebruikers er niet kunnen handelen met fiat valuta zoals de euro of de dollar. Eerst zal daarom de fiat valuta omgezet moeten worden in bijvoorbeeld bitcoin (BTC) of tether (USDT) en vervolgens moet deze crypto naar het Bexplus account verzonden worden.
Order types
Op het Bexplus leverage platform kunnen gebruikers, zoals eerder vermeld, geld verdienen als de koersen stijgen, maar ook als deze dalen. Dit komt omdat het mogelijk is op Bexplus om long en short orders te plaatsen.
Een long order is een type order waarbij de handelaar op een laag prijspunt een contract afsluit met de exchange in de hoop dat de koers van de desbetreffende cryptocurrency stijgt. Mocht deze koers inderdaad stijgen dan maakt de handelaar winst.
Een short order is het tegenovergestelde. De handelaar sluit een contract af met het idee dat de koers juist zakt. Indien dit het geval is verdient de gebruiker dus geld met een dalende koers. Short orders worden over het algemeen wel risicovoller gezien dan long orders omdat er geen theoretisch limiet zit aan het potentiële verlies. 
Hoewel leverage trading enorm lucratief kan zijn is het belangrijk voor beginners om te realiseren dat het inherent een stuk meer risico's met zich meedraagt dan simpelweg investeren. De mogelijke winsten zijn enorm, maar de keerzijde hiervan is dat er in een korte tijd een bijzonder groot verlies geleden kan worden.
Simulatie omgeving
Bexplus biedt enkele unieke en interessante functies die beginnende handelaren houvast kunnen geven. Het belangrijkste voorbeeld hiervan is de simulatie omgeving van Bexplus. Elke nieuwe gebruiker krijgt een demo-account om te handelen in een fictieve handelsomgeving.
Dit stelt nieuwe handelaren in staat om kennis te maken met de wereld van leverage trading en gelouterde handelaren kunnen hier hun vaardigheden zonder risico verfijnen. 
De simulatie omgeving is eigenlijk niet te onderscheiden van het real world handelsplatform. Alles is hier exact zoals het zou zijn als gebruikers met echt geld handelen. Dat zorgt ervoor dat het een uitstekende manier is om het handelen met leverage te oefenen.
Mobiele app
Bexplus is zowel in de browser als op de mobiele app te gebruiken. Deze app is beschikbaar voor Android en iOS telefoons en gemakkelijk te downloaden via de relevante app stores. De app is van alle te verwachten gemakken voorzien en is eenvoudig in het gebruik.
Deze app is beschikbaar in 36 landen en gelukkig staat Nederland ook in dit lijstje. Gebruikers die de voorkeur hebben aan handelen op hun telefoon zullen bij Bexplus niets te kort komen.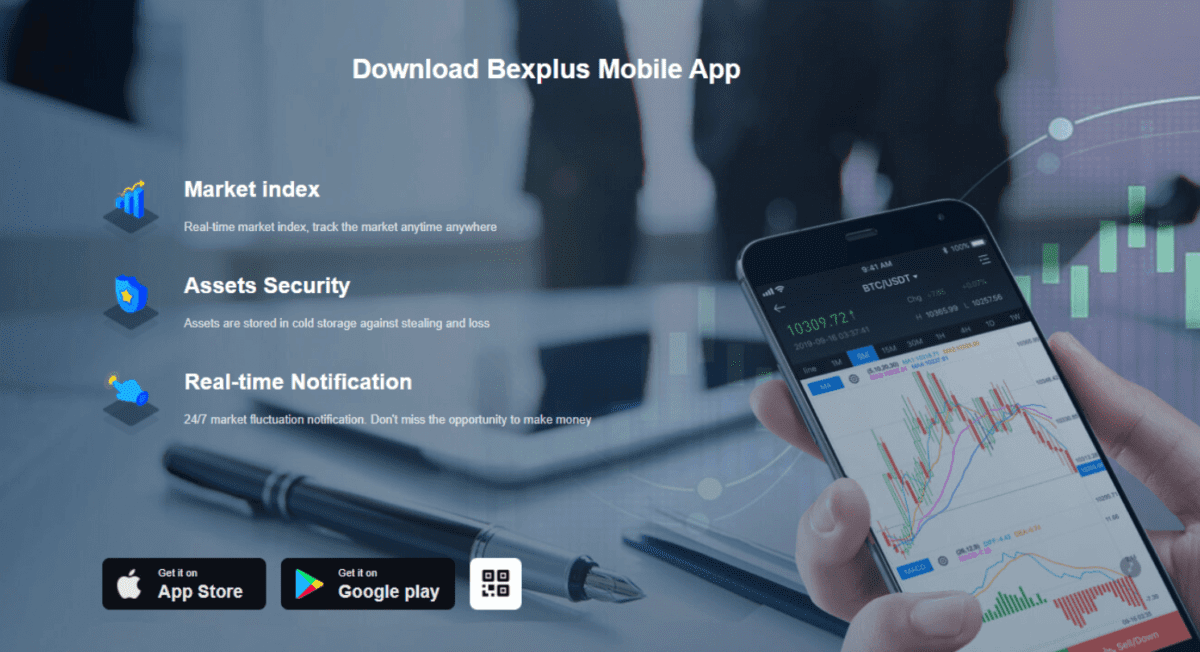 Bexplus is ook een exchange zonder KYC, ofwel know your customer, verplichtingen. Dat wil zeggen dat nieuwe gebruikers niet verplicht zijn om zichzelf te identificeren alvorens zij gebruik kunnen maken van de exchange.
Crypto aanbod
De exchange biedt een beperkt aantal cryptocurrencies om mee te handelen. Gebruikers kunnen traden met bitcoin (BTC), ethereum (ETH), cardano (ADA), ripple (XRP) en dogecoin (DOGE). Hoewel het aanbod dus niets om over naar huis te schrijven is, zijn dit allemaal erg grote en populaire cryptocurrencies.

Voor de meeste handelaren is dit aanbod dan ook meer dan genoeg. Met leverage trading is het eigenlijk niet nodig om honderden cryptocurrencies beschikbaar te hebben.
Handelskosten
Veel exchanges maken gebruik van taker en maker transactiekosten. Takers zijn degenen die liquiditeit uit het orderbook verwijderen door reeds geplaatste orders te accepteren, makers zijn degenen die zelf deze orders zetten bijvoorbeeld door middel van limit orders.
Vaak kunnen de taker en maker fees behoorlijk van elkaar verschillen. Bexplus hanteert echter simpelweg een vast percentage aan handelskosten voor elke transactie. Dit percentage verschilt weer per cryptocurrency.
Zo zijn de handelskosten bij de BTC/USDT pairing 0,075% en bij de XRP/UDST pairing zelfs 0,195%. In de tabel hieronder zijn de handelskosten voor elke beschikbare cryptocurrency te zien, alsmede de maximale leverage die gebruikt kan worden.

Ook hebben de meeste exchanges een zogeheten withdrawal fee. Dit zijn kosten die gemaakt worden als gebruikers hun digitale activa willen opnemen van de exchange. Bexplus hanteert een redelijk lage withdrawal fee. Deze is namelijk 0,0005 BTC terwijl het gemiddelde in de markt zo'n 0,0008 BTC is.
Minimum stort bedrag
Gebruikers op Bexplus moeten in tegenstelling tot veel andere exchanges, zoals Coinbase en Bitvavo, een redelijk groot minimum bedrag storten alvorens zij aan de slag kunnen op de exchange.
Dit minimum stort bedrag bedraagt namelijk 0,02 BTC. Afhankelijk van de huidige bitcoin koers kan dit vele honderden dollars zijn, hetgeen voor veel mensen simpelweg erg veel geld is.
Bexplus wallet & Affiliate Program
Een andere interessante functie van Bexplus is de Bexplus Wallet. Deze crypto wallet wordt gebruikt om bitcoin op te slaan en om het te versturen naar het handelsaccount. Wat deze wallet bijzonder maakt is het feit dat gebruikers een forse jaarlijkse rente kunnen ontvangen over de inhoud van deze wallet.
Gebruikers kunnen tot wel 21% rente per jaar verwachten! Daarnaast is de wallet veilig doordat de activa opgeslagen wordt op een extra beveiligde offline wallet die is versleuteld met multi-signature technologie.
Affiliate Program
Nog iets wat Bexplus interessant maakt is het zogeheten 'Affiliate Program'. Deze functie is voor elke gebruiker toegankelijk en zorgt ervoor dat Bexplus gebruikers geld kunnen verdienen door nieuwe mensen uit te nodigen tot de exchange.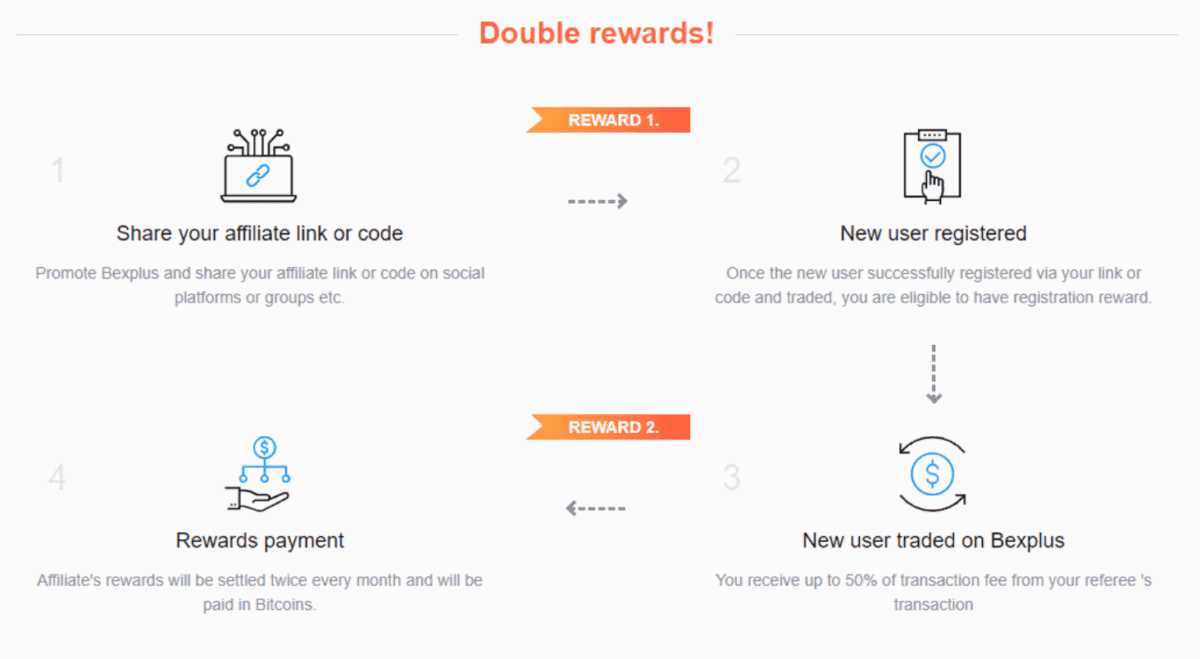 Handelaren kunnen een 'affiliate link' naar kennissen sturen en zodra deze een account maken op Bexplus en daadwerkelijk beginnen met handelen op de exchange krijgt de handelaar een fraaie commissie. Dit kan tot wel 50% van de gemaakte transactiekosten van de uitgenodigde persoon zijn.