Anycoin Direct is een Nederlandse crypto broker die in 2013 is opgericht. In dat jaar kwamen de oprichters voor het eerst in aanraking met Bitcoin. Ze geloofden al gauw in de toekomst van de digitale munt, maar zagen ook dat het een complex gebeuren was. Met name het kopen en verkopen van bitcoin was destijds niet zo eenvoudig als dat het nu is. Anycoin Direct is ontstaan vanuit de overtuiging dat zij dit beter kunnen.
Door de jaren heeft Anycoin Direct flink aan de weg getimmerd en zijn ze behoorlijk gegroeid. Deze stijgende lijn is nog altijd zichtbaar. In 2021 heeft dit geleid tot een nieuwe website met een volledig nieuw platform. Bovendien zijn ze niet alleen actief in Nederland. Eenvoudig cryptocurrencies kopen en verkopen met een persoonlijke touch doe je bij Anycoin Direct.
Registreren bij Anycoin Direct
Registreren en het aanmaken van een account is een gemakkelijk proces. Na het achterlaten van je e-mailadres ontvang je een verificatiecode. Hierna wordt je doorverwezen naar een pagina waar ze gebruikers om wat persoonlijke gegevens vragen. Vervolgens laat je je adresgegevens achter, voer je je wachtwoord in en is het account afgerond. Hierna is het nog mogelijk om een 2FA-beveiligingslaag toe te voegen, maar dit is optioneel.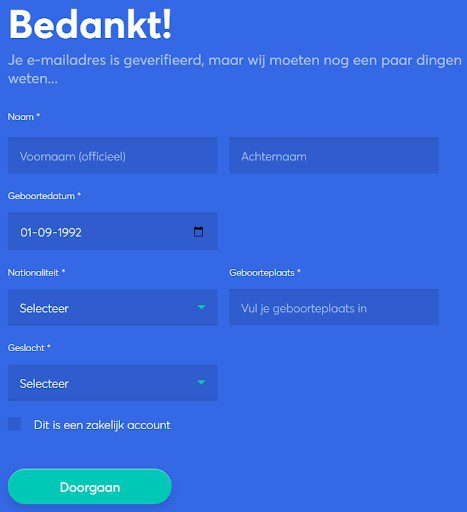 Anycoin Direct app
De meest gebruiksvriendelijke crypto broker van Europa is te gebruiken via de handige website en op de mobiele app, die te downloaden is in de iTunes App Store en de Google Play Store. Anycoin Direct heeft veel van de handige functies van de website ook in de app weten te verwerken. Verschil is wel dat je binnen de app gebruik maakt van een hosted wallet. Een eigen wallet aansluiten is niet mogelijk.
Het kopen, swappen en verkopen van cryptocurrencies is ook op de Anycoin Direct app erg eenvoudig. Registreren kan niet via de app en zal via de website moeten gebeuren. Daarna kun je met je inloggegevens wel meteen aan de slag in de Anycoin Direct app. Je krijgt dan een code per SMS toegestuurd, voor de 2-factor authentication (2FA). Bovendien moet je de app iedere keer openen met een PIN code. Veiligheid staat dus centraal. Datzelfde geldt, uiteraard zou je haast zeggen, voor de eenvoud het gebruikersgemak. De app is handig, heeft een strakke interface en is voor iedereen toegankelijk.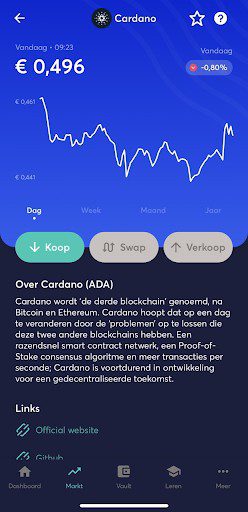 Met behulp van de Anycoin Direct app is het daarnaast heel eenvoudig om de markt en koersen van alle beschikbare cryptocurrencies te volgen. Dit is te filteren op populaire munten, op alfabetische volgorde en op de hardste stijgers in de afgelopen 24 uur. Ook is het mogelijk om cryptocurrencies als favoriet in te stellen. Hierdoor blijf je altijd op de hoogte van de laatste ontwikkelingen van de door jou begeerde munten.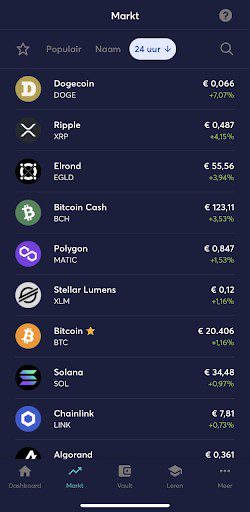 Affiliates & Credits
Via zowel de mobiele app als de website is het mogelijk om gemakkelijk bonussen te ontvangen en om crypto te verdienen. Met de 'Affiliates & Credits' optie in de app is het mogelijk om een unieke link te delen met vrienden, collega's, familie of met wie je ook wilt. Hierdoor kun jij commissie verdienen op iedere aankoop die zij doen. Dit kan oplopen tot maximaal 0,25% van de totale order, voor zowel bitcoin als iedere altcoin. Het mooiste hieraan is dat je hier, buiten het delen van de link, helemaal niets voor hoeft te doen.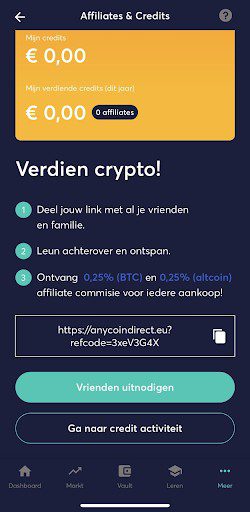 Cryptocurrencies kopen
Cryptocurrencies kopen kan, zoals we ondertussen gewend zijn van Anycoin Direct, haast niet eenvoudiger. Met een aantal klikken op de knop is het al geregeld. Vervolgens kan men er voor kiezen om de coins naar de Anycoin Vault te sturen, of naar externe wallet. Bij de Vault komen geen netwerkkosten kijken. Bovendien kunnen gebruikers kiezen uit meerdere betaalmethoden, voor zowel bankrekening als creditcard:

Anycoin Direct hulpbronnen
Anycoin Direct streeft ernaar om alles zo goed en eenvoudig mogelijk te regelen voor hun gebruikers. Hiervoor hebben ze onder andere een aantal hulpbronnen.
Guides
Onder het kopje 'Guides' heeft Anycoin Direct tal van stappenplannen die heldere en uitgebreide uitleg geven over het account en het kopen en verkopen van verschillende cryptocurrencies. Benieuwd naar hoe je een exchange wallet adres verifieert of hoe je cryptocurrency koopt? Dit vind je allemaal terug in de handige guides van Anycoin Direct.
Wallets
Bij Anycoin Direct kun je cryptocurrencies kopen en opslaan in Anycoin Direct Vault. Ook heb je de mogelijkheid om je coins naar een externe wallet sturen. Maar wat houdt dat nou precies in en wat is de beste optie? Anycoin Direct legt per cryptocurrency uit welke wallets beschikbaar zijn en welke ze aanraden. Dus heb je bijvoorbeeld ethereum in bezit en wil je weten welke ethereum wallet(s) nu de beste zijn? De brede toelichting van Anycoin Direct helpt je uit de brand.
Trade
Bij het tabblad 'trade' kunnen gebruikers terecht die coin-to-coin willen traden. Hiermee kun je dus twee cryptocurrencies met elkaar verhandelen, in plaats van met fiatgeld. Een complexe exchange is hier niet meer voor nodig. Met de handige handelsfunctie van Anycoin Direct kun je efficiënt traden en bijvoorbeeld inspelen op marktfluctuaties.
Support
Anycoin Direct heeft een supportteam wat (potentiële) gebruikers graag te woord staat en helpt waar nodig. Ze zijn te bereiken middels een chatfunctie op de website, evenals per e-mail en telefonisch op +31413747174.
Veel vragen zijn overigens al beantwoord en terug te vinden bij de FAQ. Crypto handelen makkelijk maken is waar ze voor staan en dat is ook op gebied van klantenservice goed terug te zien.
Overig
Bij Anycoin Direct heeft men verstand van zaken en dat delen ze graag met hun klanten. Zo schrijven ze vaak meerdere malen per dag over het belangrijkste crypto nieuws en hebben ze een overzicht met partners en handige links naar crypto websites.
Anycoin Direct recensies
Gebruikers van Anycoin Direct zijn behoorlijk te spreken over alles wat de Nederlandse crypto broker te bieden heeft en dat is terug te zien in de recensies. De gemiddelde beoordeling op reviewplatform Trustpilot liegt er niet om. Van de te behalen 5 sterren ontvangt Anycoin Direct er 4,5, gebaseerd op maar liefst 14.274 reviews. Snelheid, betrouwbaarheid en het gemak van hierbij een paar terugkerende keywords.