De Amerikaanse crypto exchange Coinbase blijft voor veel investeerders in Nederland en de rest van de wereld een populaire bestemming. De exchange is al sinds het begin een begrip binnen de crypto industrie en bijna niet meer weg te denken uit de lijst van gevestigde crypto bedrijven. De exchange biedt zowel beginnende als gelouterde investeerders een uitstekend handelsplatform en doet bepaald niet onder voor de concurrentie. 
Onze Coinbase ervaring
Onze ervaring met Coinbase begon bij het aanmaken van een nieuw gebruikersaccount. Beginnen met investeren en handelen op Coinbase is een gelukkig een fluitje van een cent. Zoals gewoonlijk wordt er met een e-mailadres geregistreerd. Vervolgens wordt er een verificatiecode naar het desbetreffende e-mail adres gestuurd.
Daarna is het verplicht om wat persoonlijke informatie te delen met Coinbase. Dit is informatie zoals het adres waar de gebruiker woonachtig is, de leeftijd en een paar simpele vragen moeten beantwoord worden. Dit komt omdat Coinbase verplicht is om hier naar te vragen vanwege strenge regulatie.
De laatste stap is het verifiëren van je identiteit. Dit kan met een rijbewijs, ID-kaart of paspoort. Veel gebruikers hebben hier een hekel aan, maar om Coinbase te kunnen gebruiken is deze stap verplicht.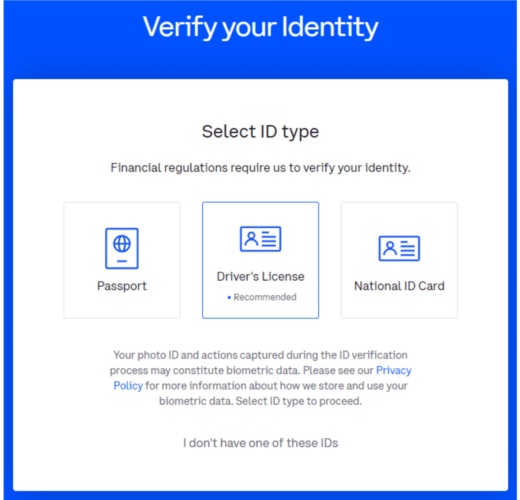 Eenmaal geregistreerd en geverifieerd kunnen gebruikers aan de slag op Coinbase. Belangrijk om te weten is dat er twee versies van de exchange van Coinbase zijn. Er bestaat de standaard versie, Coinbase, en de geavanceerde versie, Coinbase Pro.
Ervaring Coinbase & Coinbase Pro
Voor beginners is Coinbase bij uitstek de beste keuze. De interface is gemakkelijk en wijst zichzelf. Het kopen en verkopen van cryptocurrencies is hier simpelweg een fluitje van een cent.
De gevorderde investeerder of handelaar doet er goed aan om voor Coinbase Pro te kiezen. De opties en functionaliteiten zijn hier een stuk uitgebreider. Vooral handelaren zullen zich hier beter thuis voelen dan op de standaard versie van Coinbase.
Een keuze maken is niet permanent. Gebruikers kunnen met hun Coinbase account inloggen op zowel Coinbase als Coinbase Pro naar eigen verlangen. Er zitten geen extra kosten of andere limitaties aan het gebruiken van Coinbase Pro.
Cryptocurrency kopen & verkopen op Coinbase
Uiteraard draait alles om het kopen en verkopen van cryptocurrencies. Gelukkig is Coinbase hierin een uitstekend platform. Vooral op de standaard versie van Coinbase is het kopen en verkopen van cryptocurrencies kinderspel. 
Gebruikers kunnen gemakkelijk cryptocurrencies kopen met fiat valuta zoals de euro. Hierdoor hoeven gebruikers niet eerst hun geld om te zetten naar bijvoorbeeld USDT, hetgeen bij veel andere exchanges wel noodzakelijk is.
Met een simpele koop- en verkoopknop kunne gebruikers alle cryptocurrencies naar wens verhandelen. Het klinkt heel simpel, maar op Coinbase is het dat ook daadwerkelijk.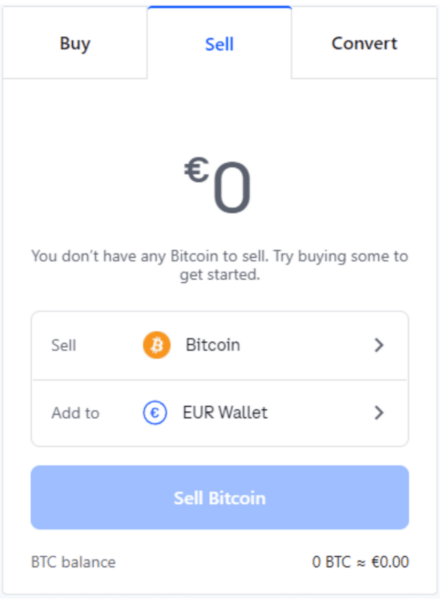 Op Coinbase Pro is het iets ingewikkelder. Dit komt natuurlijk doordat Coinbase Pro veel meer opties om te kopen en te verkopen aanbiedt. Zo kunnen gebruikers hier limit orders, stop losses en andere zaken gebruiken. Voor de gelouterde investeerder spreekt dit voor zich, maar voor de beginners kan Coinbase Pro daarom wat overweldigend zijn.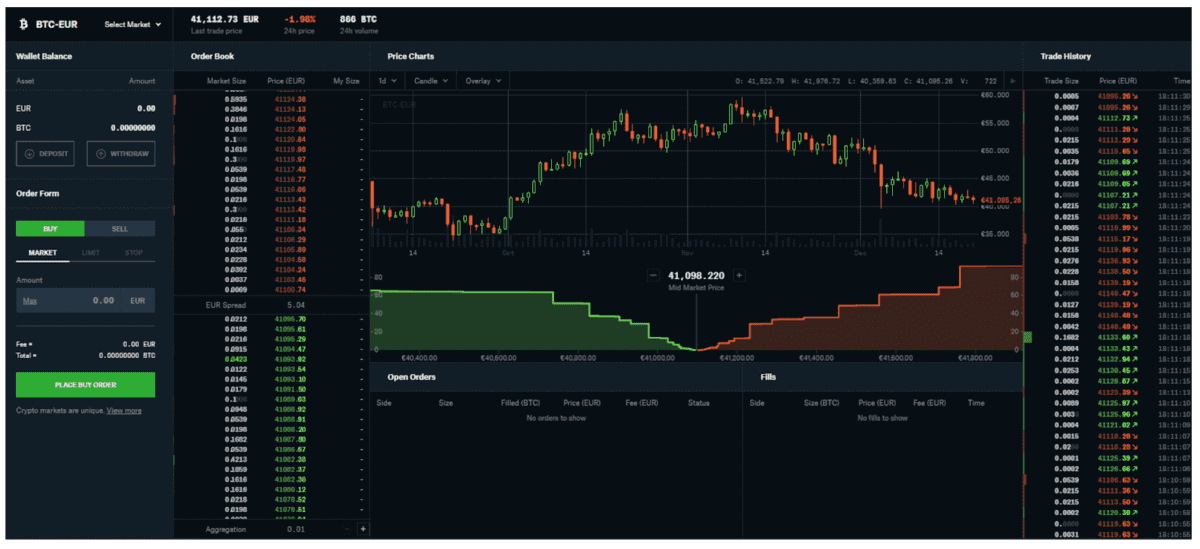 Desalniettemin is de gebruikersomgeving op zowel Coinbase als Coinbase Pro erg netjes en is de learning curve bij beide verrassend laag. Ook kunnen gebruikers al beginnen met handelen met slechts $2! 
Coinbase fees
Een van de minpunten van Coinbase zijn de handelskosten, ofwel fees. Het is geen geheim dat deze fees op Coinbase relatief hoog zijn. In vergelijking tot andere exchanges is dit wellicht zelfs het grootste nadeel van Coinbase.
Voor Coinbase geldt een vaste 0,50% transactie fee voor elke transactie die de gebruiker maakt. Vooral als er veel transacties gedaan worden kan dit behoorlijk problematisch worden. Voor investeerders die weinig aan hun portfolio zitten is dit natuurlijk niet een bijzonder groot probleem. Feit blijft echter dat deze handelskosten flink zijn, vooral voor handelaren die meerdere transacties per dag doen.
Daarnaast wordt er zelfs 4% voor elke betaling met een creditcard gerekend en 1,49% voor Coinbase wallet of bankbetalingen. De handelskosten van Coinbase Pro kunnen zijn fors lager. Hier wordt een transactie fee tussen de 0% en de 0,5% gerekend. 
Klantenservice Coinbase
De klantenservice van Coinbase is enigszins karig, maar het doet wat het moet doen. Er bestaat uiteraard de mogelijkheid om Coinbase te contacteren over problemen die gebruikers hebben ondervonden, maar dit is beperkt tot het sturen van een e-mail.
Wel bestaat er een noodnummer dat gebeld kan worden indien de gebruiker vermoedt dat zijn/haar account gestolen is. De klantenservice van Coinbase kan op dat moment het account van de gebruiker op slot zetten om te voorkomen dat er geld of cryptocurrencies gestolen worden. Een uitstekend systeem.
Coinbase betaalmethoden
Tot de vreugde van Nederlandse Coinbase gebruikers is het mogelijk om geld te storten op Coinbase met iDEAL. Voor veel Nederlanders is dit simpelweg de gemakkelijkste manier om online betalingen te doen en voor hen is het dus ook mogelijk om met iDEAL geld op Coinbase te storten.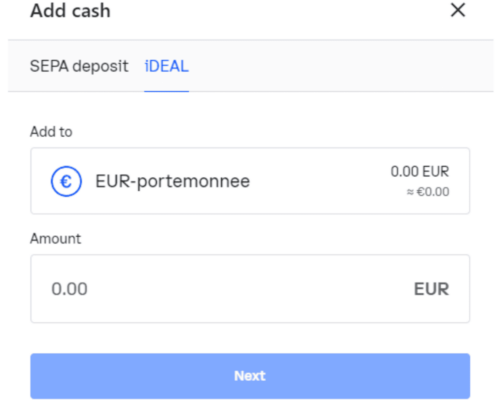 Ook is het mogelijk om geld te storten middels een handmatige SEPA-bank betaling.
Coinbase Card
Een unieke functie van Coinbase is de Coinbase Card. Dit is een debit card van Visa die gebruikers in staat stelt om overal waar een Visa kaart geaccepteerd wordt te betalen met cryptocurrencies.
Deze Coinbase Card kost voor gebruikers in de Europese Unie eenmalig ongeveer 5 euro en gebruikers hoeven geen jaarlijkse abonnementskosten te betalen. Met deze kaart kunnen gebruikers dagelijks maximaal $10.000 aan cryptocurrencies uitgeven.
Staken op Coinbase
Het is ook mogelijk om cryptocurrencies te staken op Coinbase. Dat betekent dat cryptocurrencies vastgezet kunnen worden om zo passief inkomen te vergaren. Op het moment zijn er slechts een paar cryptocurrencies beschikbaar om te staken, maar naarmate de tijd vordert zal deze lijst flink uitgebreid worden.

Is Coinbase betrouwbaar?
De vraag of Coinbase een betrouwbare exchange is kan in een woord beantwoord worden: Ja. Het is een Amerikaanse crypto exchange en is dus onderhevig aan de strenge Amerikaanse regulatie. Het is ook een serieus bedrijf met meer dan 1000 werknemers.
Daarnaast zijn de systemen van Coinbase enorm veilig te noemen. Het is hackers nog nooit gelukt om Coinbase binnen te breken en geld van Coinbase gebruikers afhandig te maken.