Altrady is een zeer uitgebreid cryptocurrency handelsplatform waarop de gebruiker verschillende cryptocurrency trading tools kan gebruiken bij handelen in cryptocurrency. Altrady opende haar deuren voor het eerst in 2017 en is gevestigd in Den Haag. Het bedrijf telt op het moment 6 werknemers die er alles aan doen om van Altrady een groot platform te maken.
Onze Altrady ervaring
Het viel gelijk op dat Altrady er alles aan doet om het traden een stuk gebruiksvriendelijker te maken voor de gebruiker. Altrady is hierdoor voor zowel beginners als voor gevorderde handelaren te gebruiken. Voor de gevorderde trader zijn er veel verschillende tools te gebruiken zoals de grafieken, mogelijkheid tot het maken van technische analyse, verschillende scanners en een uitgebreid orderboek. Voor de beginnende traders biedt Altrady honderden verschillende artikelen over beginnen met cryptocurrency. Ook krijg je als beginnende trader de mogelijkheid verschillende video's te kijken waarin basisprincipes van trading worden uitgelegd.
Hoe kan je Altrady downloaden?
Altrady is te gebruiken via drie verschillende besturingssystemen waaronder Windows, Mac OS en Linux. Mocht je de software toch liever via een browser gebruiken, dan kan dat natuurlijk ook.  
Account maken
Als je wilt beginnen met Altrady dien je een account aan te maken, wat overigens heel simpel is. Je hoeft slechts een e-mailadres en een wachtwoord op te geven. Je e-mailadres wordt direct gecontroleerd. Deze kan je vervolgens verifiëren door de code door te geven op de website die je via een e-mail krijgt. Je krijgt hierna ook direct de mogelijkheid om tweefactorauthenticatie (2FA) in te stellen, wat erg handig is voor een extra beveiligingslaag van je account.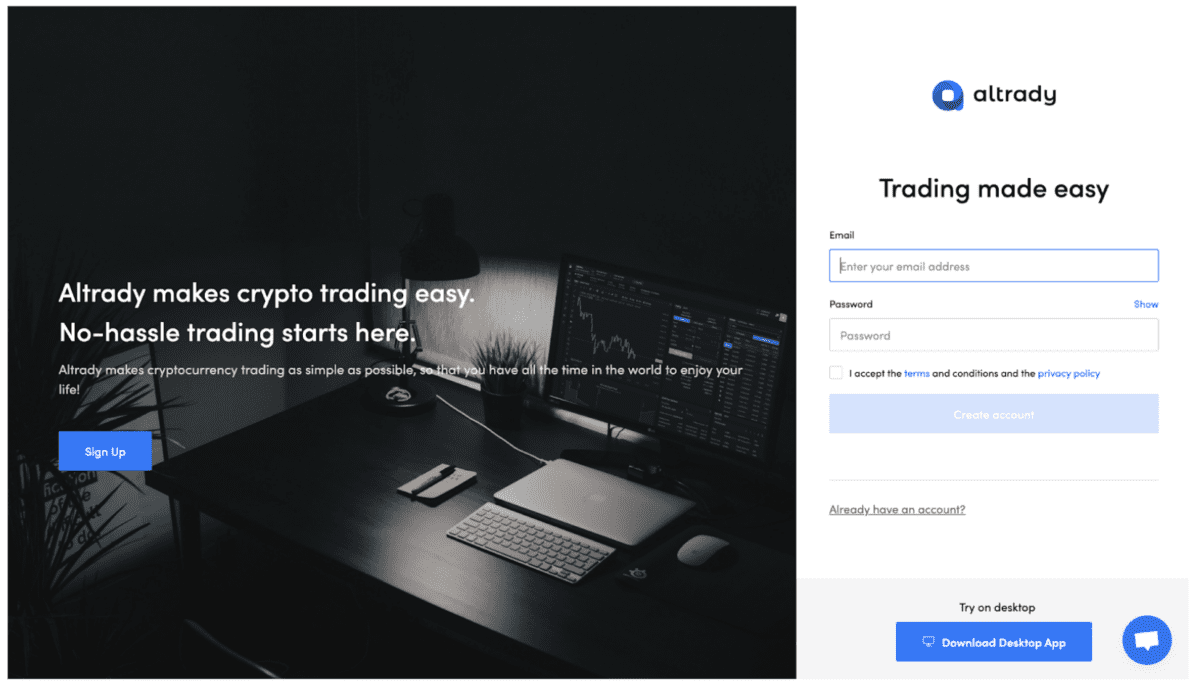 Je krijgt direct na het maken van je account de mogelijkheid om je dashboard te personaliseren, waarna je ook direct de mogelijkheid krijgt om alvast een exchange account toe te voegen aan je Altrady platform.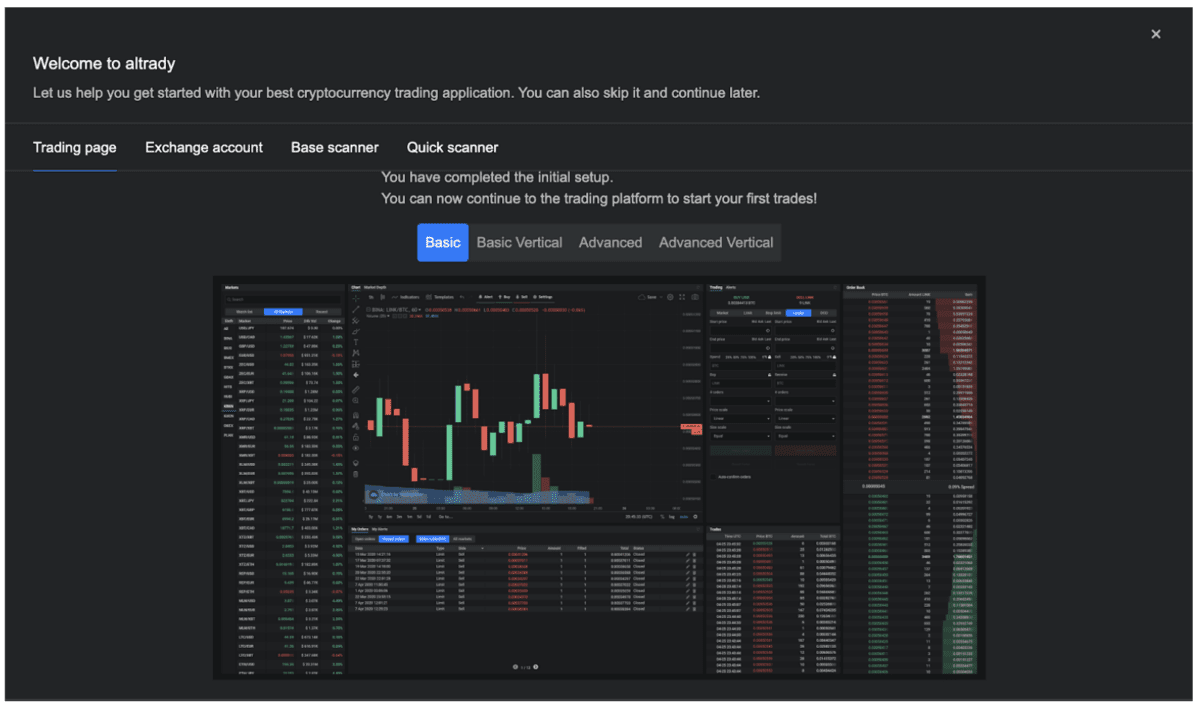 Platform
En dan de meest interessante feature die Altrady biedt; de mogelijkheid om via het platform op verschillende exchanges te handelen. Dit werkt erg gemakkelijk. Op het platform zie je een lijst met verschillende exchanges waar je zelf een selectie uit kunt maken. Klik de exchanges aan waar jij een account bij hebt of welke je aan je account hebt gekoppeld en je kunt direct handelen in alle verschillende coin die deze exchanges biedt.

De grafieken die het platform levert zijn perfect voor elke soort trader. De grafieken van TradingView zijn in het platform geïntegreerd. Hierdoor krijg je ook alle mogelijkheden die je ook bij TradingView krijgt. Denk hierbij aan alle verschillende soorten technische indicatoren of charting tools; een groot pluspunt. Zo blijf je als trader up-to-date van elke koersbeweging per seconde en kan je technische analyse toepassen om in te spelen op elke kans die de markt biedt.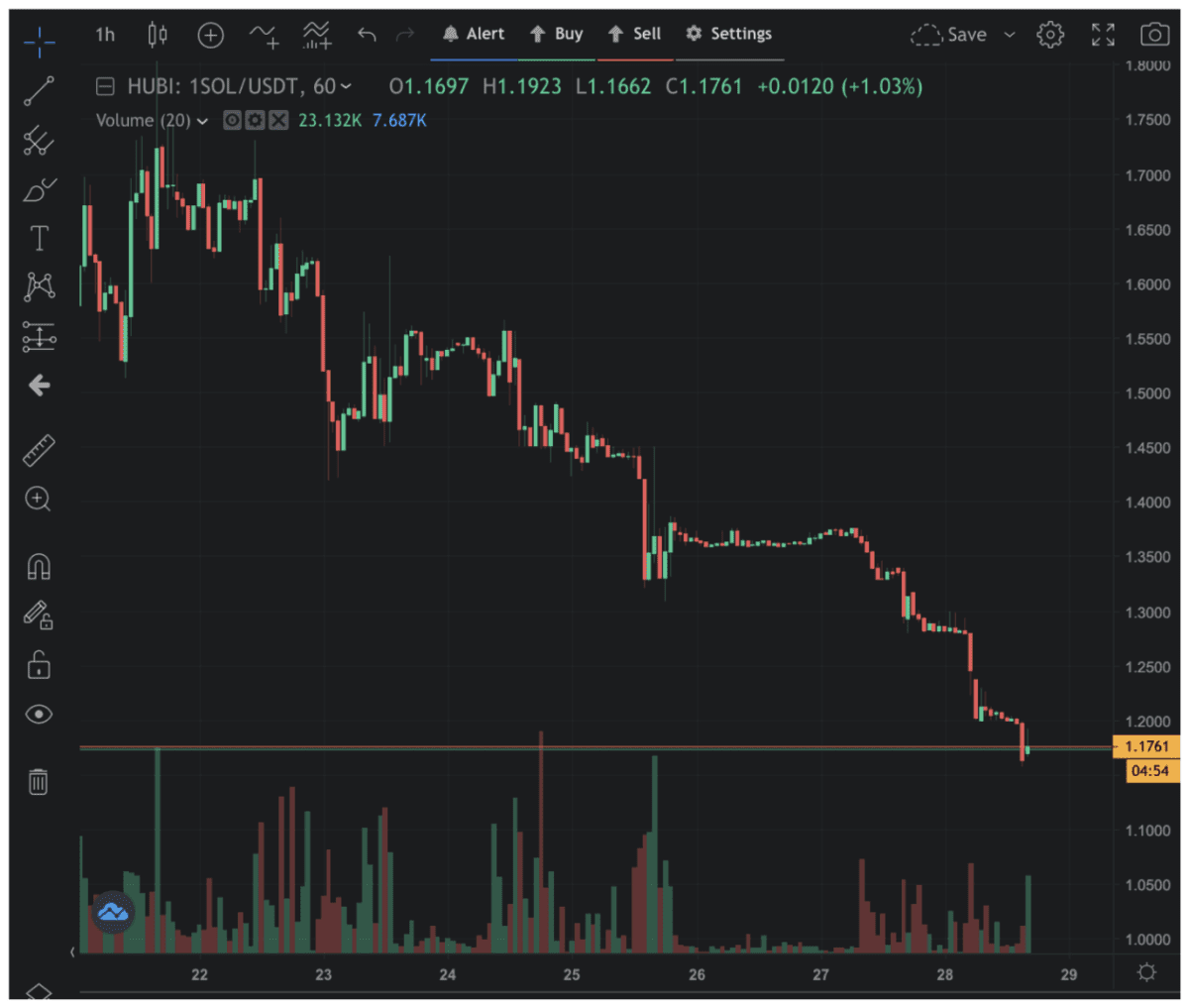 Plaatsen van een order
Voor het plaatsen van een order kan je gebruikmaken van veel verschillende ordertypes. Denk hierbij aan de standaard limit order, market order en stop orders. Altrady neemt het echter een stapje verder en bieden de mogelijkheid tot 'smart orders'. Via deze smart orders krijg je heel makkelijk toegang tot de mogelijkheid om je order verder te specificeren. Het plaatsen van extra verkooppunten kan erg handig zijn als je in lagen wilt verkopen. Niet veel exchanges of tradingplatformen bieden deze mogelijkheid. Dit is zeker een dik pluspunt aan het Altrady platform.

Privacy
Een groot voordeel aan het platform van Altrady is dat, doordat het hoofdkantoor in Nederland gevestigd is, het bedrijf ook dient te voldoen aan bepaalde Nederlandse wetten, waaronder de Wet Bescherming Persoonsgegevens. Middels deze wet wordt er duidelijk aangegeven welke informatie Altrady van je verzamelt en waar deze informatie voor gebruikt wordt. Ze zijn hierdoor ook verplicht om zeer zorgvuldig om te gaan met persoonsgegevens, wat natuurlijk als gebruiker een extra veilig gevoel geeft. Alles is overzichtelijk aangegeven op deze pagina.
Support
Mocht je uiteindelijk bij het gebruiken van het platform ergens tegenaan lopen of toch iets niet snappen, dan is het altijd wel fijn dat je iemand hebt waar je je vraag aan kunt stellen. Ook daar heeft Altrady een goede oplossing voor. Via hun Discord kanaal hebben zij verschillende kanalen opgesteld waarin jij je vraag in kwijt kunt. Je komt zo direct in contact met een van de medewerkers van de exchange. Zij helpen je graag bij het oplossen van je probleem. Dit kan eventueel ook in het Nederlands! 
In de general chat kan je praten over trading of cryptocurrencies. Mocht je suggesties hebben voor wat het platform volgens jou echt nodig heeft kan je dat ook hier kwijt. Dit is dus zeker de moeite waard om een keer te bekijken. Middels de app wordt er zelfs 24/7 chat support geboden. Klik hiervoor in het linker menu op 'Need support?'.
Toekomstige features
Het team achter Altrady zit niet stil! Nog in het eerste kwartaal van 2022 zal het handelsplatform signal bots en grid bots toevoegen, waarvan de eerstgenoemde in januari 2022 zal verschijnen. Daarnaast zal de ondersteuning worden uitgebreid met 5 cryptocurrency exchanges, waaronder ByBit, Gate.io en het Nederlandse Bitvavo. De user interface van het platform krijgt ook in het eerste kwartaal een update.
Voor de rest van het jaar staan meer updates gepland. Zo werkt Altrday aan DCA bots, een marktplaats voor handelssignalen en de ondersteuning voor wallets en decentrale exchanges.
Beoordelingen
Altrady heeft op Trustpilot een goede beoordeling. De exchange krijgt uit 24 reviews een 4,2 van de 5 sterren. In de Apple app store weet Altrady met 7 beoordelingen een 3,5 uit 5 te krijgen. Helaas hebben zij op het moment nog niet heel veel reviews, maar de reviews die er zijn delen onze mening over dat het platform erg fijn is in gebruik.
Conclusie
Altrady is een geschikt platform voor als je traden wat serieuzer wilt nemen. Door alle verschillende tools loop je net een stapje voor ten opzichte van handelaren die direct op een cryptocurrency exchange handelen. Daarnaast is het platform niet alleen bedoeld voor het handelen maar ook om mee te leren. Via de daarvoor bedoelde pagina's kan je namelijk veel verschillende informatie vinden over cryptocurrency trading. De supportafdeling op Discord is erg vriendelijk, reageert snel en is bovendien Nederlands. 
Al met al is Altrady dus zeker de moeite waard op uit te proberen. Altrady biedt op het moment een actie waarmee je 14 dagen gratis kunt proberen. Op deze manier kan je kijken of het platform bij je past.