Als je al wat langer meeloopt binnen de crypto-industrie, dan heb je vast wel eens de woorden 'short squeeze' voorbij zien komen. Maar wat betekent dit nu eigenlijk? Heel simpel gezegd is een short squeeze een moment van prijsactie naar boven waarbij handelaren die gokten op een verdere daling uit hun positie geperst worden. Als je gokt op een daling van de koers ga je short. Gaat de koers omhoog en moet een groot deel van de handelaren gedwongen hun shortpositie sluiten? Dan spreekt men van een short squeeze. Iedereen rent als het ware naar de uitgang en moet om hun positie te dekken bitcoin kopen. Dat zorgt ervoor dat de koers, die al omhoog ging, een nog hardere boost krijg van alle short-handelaren die nu in paniek bitcoin moeten kopen om aan hun afspraken te voldoen.
Ter verduidelijking: als je short gaat op bitcoin (BTC), dan leen je bitcoin van een handelsplatform die je op hetzelfde moment meteen verkoopt. Jij hebt daarna de verplichting om op een in het contract bepaalde datum of als de koers naar een specifiek niveau stijgt de bitcoin terug te kopen en te leveren aan het handelsplatform. Je kunt je voorstellen dat dit voor explosieve prijsactie omhoog kan zorgen als veel short-handelaren tegelijkertijd uit hun positie gedrukt worden en bitcoin moeten kopen.
Short squeeze binnen crypto
Binnen de crypto-markt komt het vanwege de hoge volatiliteit relatief vaak voor dat short-handelaren op deze manier uit hun positie geperst worden. Een voorbeeld van een short squeeze binnen crypto is de periode van 21 tot 30 juli van 2021. In die periode schoot de bitcoin koers met 30 procent de lucht in, met als gevolg dat er voor 2,4 miljard dollar aan shorts geliquideerd werden. Omdat veel altcoins voor hun koersverloop afhankelijk zijn van bitcoin, vindt een short-squeeze in altcoins vaak op hetzelfde moment plaats als binnen bitcoin.
Het mooie aan een short-positie is dat je met weinig geld relatief snel een hoog rendement kunt behalen. Hiermee gok je echter wel op de korte termijn koers van bitcoin en de rest van de cryptomarkt, die zich de afgelopen jaren heeft bewezen als een onvoorspelbaar beestje. Zelfs de grote koningen van de technische analyse zitten er regelmatig naast, waardoor zeker voor beginners niet aan te raden is om zich hiermee bezig te houden. Tenzij je van een gokje houdt natuurlijk.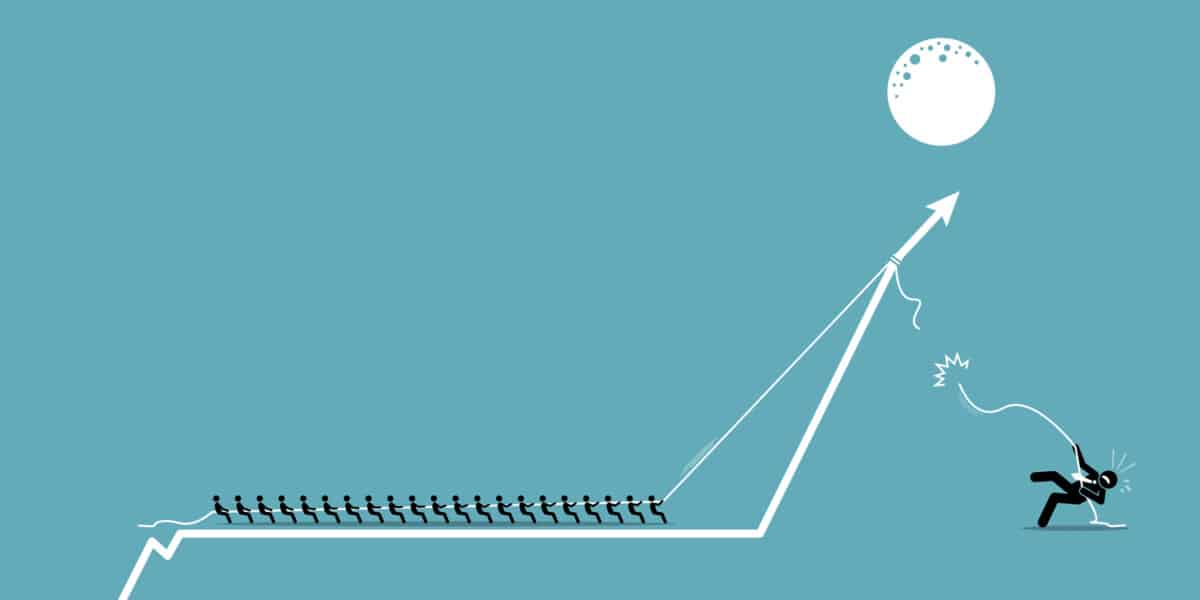 BTC short squeeze
Bitcoin is nog altijd verreweg de grootste cryptocurrency op basis van marktwaarde en handelsvolume, waardoor analisten zich voor dit soort bewegingen vooral focussen op bitcoin. Als er veel speculatie is onder handelaren, wat betekent dat veel mensen op hetzelfde moment short- of long-posities open hebben staan is de kans op een short- of long squeeze groter. Wat je vaak ziet is dat analisten dit meenemen in hun analyse en bespreken als een eventueel risico op de korte termijn. Dit is waarom de relatief onverwachtse bewegingen die bitcoin maakt soms zo hevig kunnen zijn.
Het komt regelmatig voor dat er voor miljarden dollars aan bitcoin short-posities geliquideerd worden. Tijdens die golven springt de bitcoin koers vaak met veel macht enkele procenten tot zelfs tientallen procenten de lucht in. Binnen de bitcoin-markt komen short squeezes over het algemeen vaker voor omdat het toegankelijker is om met een hefboom te handelen binnen bitcoin en er relatief meer 'geleend geld' in de markt actief is.
Hoe lang duurt een short squeeze?
Zoals de naam al een beetje verklapt duurt een short squeeze vaak niet heel lang. Als de koers plotseling een sprong maakt, dan zorgt dit er tijdens een short squeeze voor dat de handelaren met een short-positie uit hun contracten worden geperst. Je spreekt niet meer van een short squeeze als het over een periode van enkele weken gaat. Dan gaat het gewoon om de 'normale' gang van zaken binnen de markt.
De eerder aangehaalde short squeeze van bitcoin in juli van het afgelopen jaar duurde in totaal 9 dagen. Dat was echter vanaf het begin van de stijging tot het einde op 31 juli. Een kleine stijging hoeft niet meteen een short squeeze te zijn, pas als er na die koersbeweging een volgende klapper omhoog gemaakt wordt, dan spreek je van een short squeeze.
Short squeeze in aandelen
Ook in de markt voor aandelen komt er regelmatig een short squeeze voor. De meest beroemde short squeeze van de afgelopen tijd is waarschijnlijk die van het aandeel GameStop, dat in de media enorm veel aandacht heeft gekregen. Dit verhaal begon allemaal met een Reddit-gebruiker die had ontdekt dat veel grote hedgefondsen enorme short-posities hadden openstaan voor GameStop, terwijl het bedrijf in kwestie er helemaal niet zo slecht voorstond. In ieder geval niet zo slecht als de short-posities van de hedgefondsen je zouden doen geloven.
Deze Redditor kreeg het vervolgens voor elkaar om een grote schare van Reddit-gebruikers te verzamelen die allemaal op hetzelfde moment Gamestop gingen kopen, om de hedgefondsen uit hun positie te drukken en een short squeeze te creëren. Dit lukt en het aandeel van GameStop schoot dan ook als een raket de lucht in, wat sommige van de hedgefondsen zelfs bijna in een faillissementssituatie duwde. Uiteindelijk bleef de schade door enkele dubieuze beslissingen om de handel in aandelen GameStop te pauzeren om te voorkomen dat men nog meer aandelen GameStop kon kopen. Hetgeen voor het grote publiek ook het belang van Decentralized Finance (DeFi) onderstreepte, waarbij niemand de macht heeft om de handel zomaar te stoppen.