Met bitcoin (BTC) die afgelopen nacht weer een mooie pump liet zien, zijn de blikken van veel Bitcoiners weer voorzichtig omhoog gericht. Maar waar liggen nu de belangrijke punten waar de BTC koers doorheen moet breken voordat we weer kunnen spreken van een duurzaam herstel? In dit artikel een bitcoin analyse!
Bitcoin prijs in stijgende driehoek
Beginnend met de huidige situatie van bitcoin. We zien op de dagelijkse grafiek een zogenoemd stijgend driehoekspatroon ontstaan. Dit patroon is te herkennen aan de hoger wordende lows maar gelijkblijvende highs. Kortom, de koers vormt aan de onderzijde een stijgende lijn, maar aan de bovenzijde blijft de koers weerstand vinden, zoals te zien op de onderstaande grafiek.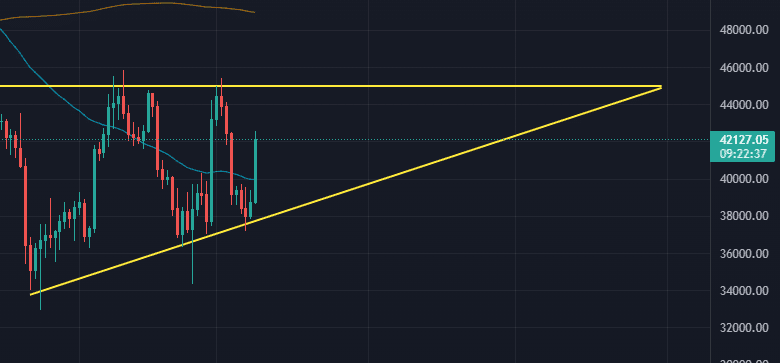 Zoals te zien breekt de koers de 50-dagen moving average (MA). Het is voor de bulls nu belangrijk om het momentum vast te houden om de bovenste weerstandlijn opnieuw te kunnen testen. Mocht het hen vervolgens lukken uit het patroon te breken dan ligt het technische target op ongeveer $56.000. Echter zal bij $51.500 grote weerstand gevonden kunnen worden gezien historische prijsactie in dit prijsgebied. Op $49.000 ligt bovendien nog de 200-dagen MA die roet in het eten kan gooien bij een uitbraak.
Op het moment van schrijven handelt bitcoin op Coinbase op een prijs van $42.130 en €38.269 op de Nederlande crypto exchange Bitvavo.
De volgende grote bitcoin trend wacht bij deze niveaus
Ondanks de positieve beweging lijkt er nog weinig te zijn veranderd in de verwachtingen. Analist en handelaar Nebraskangooner liet vandaag in een tweet weten dat hij de volgende grote bitcoin trend, zowel omhoog of omlaag, buiten de volgende twee prijzen verwacht:
"De markt vertelt ons dat $33.000 en $46.000 cruciale niveaus zijn voor Bitcoin

De volgende grote trend wacht aan beide kanten."
The market is telling us that $33,000 and $46,000 are crucial levels for #Bitcoin

The next big trend awaits on either side.

— Nebraskangooner📈 (@Nebraskangooner) March 9, 2022
Investeringslegende Peter Brandt vindt de huidige bitcoin grafiek "zeer fascinerend." Zo zou hij klaar staan om "de trekker over te halen."
Bitcoin has a very intriguing chart set up at this time. Getting ready to pull the trigger. Will post soon on @BitcoinLive1 pic.twitter.com/Na2SWU40Ye

— Peter Brandt (@PeterLBrandt) March 9, 2022
De positieve beweging vond plaats nadat een verklaring van de Amerikaanse minister van Financiën uitlekte. Daaruit bleek dat de nieuwe crypto wetgeving in de Verenigde Staten waarschijnlijk crypto-vriendelijker wordt dan verwacht. Hierover lees je meer in dit artikel. Vind hier een uitgebreide bitcoin video-analyse van David.