In de Premium omgeving van Crypto Insiders worden dagelijks actuele technische analyses gedeeld door ervaren analisten. De afgelopen periode kwam Tezos (XTZ) hier regelmatig ter sprake. In deze rubriek blikken we terug op deze technische analyse en brengen we de recente ontwikkelingen en verwachtingen voor de komende periode in kaart. Mocht je na het lezen van dit artikel nog vragen hebben kun je deze eenvoudig stellen in onze Discord community, hier staan onze technische analyses doorgaans 48 uur eerder klaar voor onze leden.
Wat is Tezos (XTZ)?
Tezos is een blockchain-netwerk op basis van smart contracts, op een manier die wat weg heeft van Ethereum (ETH). Het grote verschil tussen de twee is echter dat Tezos ernaar streeft om een uitgebreide infrastructuur aan te bieden. Dit wil zeggen dat de infrastructuur in de loop van de tijd ruimte heeft om verbeterd te worden zonder dat er een hard fork, ofwel een splitsing van de blockchain, voor nodig is, zoals we eerder al zagen bij zowel Bitcoin (BTC) als Ethereum. Zo'n splitsing ontstaat doordat meerdere gebruikers van het netwerk het niet eens zijn met de beslissingen die worden genomen over de toekomst van het project. Hierdoor willen zij afgesplitst van het originele netwerk zelf verder gaan.
Daarnaast kunnen XTZ HODLers stemmen voor bepaalde protocol updates die worden gepresenteerd door het Tezos team. Hierdoor krijgt iedere Tezos houder de kans om mee te beslissen over de toekomst van het project.
Laatste Tezos (XTZ) nieuws
Helaas is er in de afgelopen periode weinig opmerkelijks gebeurd rondom het project van Tezos. Wel is via het Twitter account van het project duidelijk te zien dat het ecosysteem rondom Tezos enorm hard aan het groeien is. Zo slepen verschillende projecten interessante samenwerkingen binnen of lanceren ze nieuwe producten. Zo zagen we onlangs ook de eerste sidechain van Tezos live gaan, genaamd Deku. Deze sidechain is gemaakt door Marigold en focust zich vooral op schaalbaarheid.
Wat zijn de verwachtingen voor Tezos (XTZ)?
Of bovenstaande ontwikkelingen nog verdere impact gaat hebben op de prijs is afhankelijk van een groot aantal factoren die dagelijks verschillen. De crypto-markt is immers zwaar onderhevig aan economische gebeurtenissen en traditionele aandelenmarkten. Daarom is het soms lastig om het juiste moment te bepalen om in een bepaald project te investeren. Een technische analyse kan bijvoorbeeld helpen bij het bepalen binnen welk tijdspan een cryptovaluta interessant (kan) zijn om te kopen of verkopen. Op basis van bijvoorbeeld de beleggingsgeschiedenis en het identificeren van patronen in prijsbewegingen.
Technische analyse XTZ koers
De analisten van de Discord community van Crypto Insiders hebben op 4 augustus een analyse geplaatst waarin te zien was dat de initiële verkoopzone voor XTZ is geraakt. Hierbij hadden de analisten een daling naar de $1,5255 verwacht. Op dit moment zit de koers daar niet veel vanaf. XTZ is sinds de verkoopzone al met bijna 15% gedaald zoals verwacht.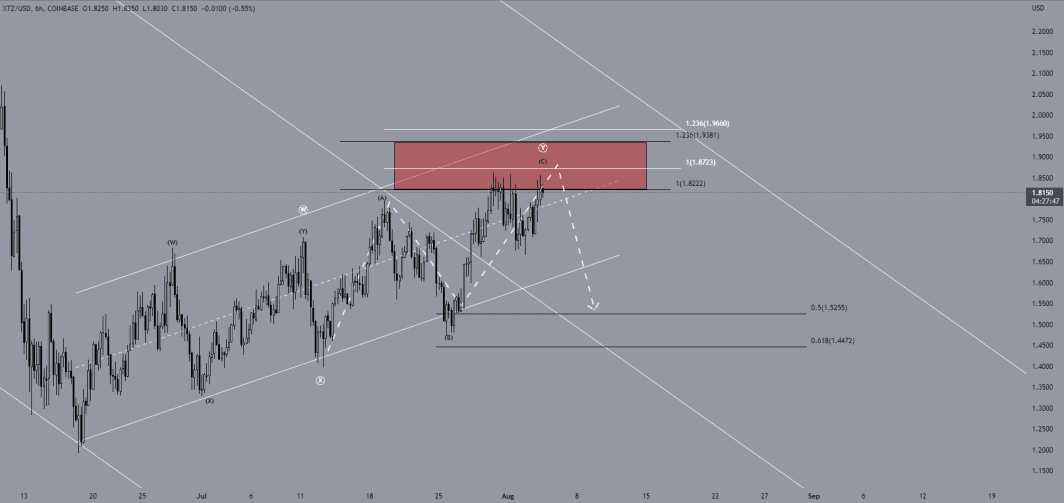 XTZ kopen of verkopen?
Zoek jij hulp met handelen in crypto? Dan verwijzen we je graag door naar onze Discord community voor leden. Hier bediscussiëren ervaren analisten en handelaren dagelijks hun analyses en handelsplannen. Ook delen we hier als eerst onze technische en fundamentele analyses. In onze Discord community kunnen we 24/7 kennis met elkaar delen en proberen we onze premium leden op de hoogte te houden.
Disclaimer: Beleggen brengt risico's met zich mee. Onze analisten zijn geen financieel adviseurs. Raadpleeg altijd een adviseur bij het maken van financiële beslissingen. De informatie en tips die op deze website zijn verstrekt is gebaseerd op eigen inzichten en ervaringen van onze analisten. Deze dienen daarom alleen voor educatieve doeleinden.