Wat een ongelooflijke dump hebben we met z'n allen meegemaakt! Het onderstreept maar weer eens met een dikke lijn hoe belangrijk het is om je risicomanagement op orde te hebben zodat je jouw gemoedstoestand en portfolio kunt beschermen tegen dit soort unieke situaties. Waar de koers van bitcoin (BTC) de afgelopen week nog opende op $8.037 op cryptocurrency exchange Coinbase haalde de koers op haar dieptepunt een waarde van $3.858(!). In mijn vorige column beschreef ik nog wat voor mij belangrijke zones waren en daarmee onderstreepte ik vooral het belang van de $7.400. In retrospect bleek dit ook een belangrijk niveau te zijn, want zoals in afbeelding 1 goed te zien is op de 4-uurs grafiek van bitcoin op Coinbase vond de koers heel even kort haar support op dit niveau (blauwe lijn), maar toen het daar doorheen zakte viel alle liquiditeit weg en zakte de koers regelrecht tot onder de $6.000 en even later dus tot het dieptepunt van $3.858. De koers veerde vanaf dat dieptepunt scherp omhoog, waar het op dit moment aan het consolideren is net boven de $5.000. Over de afgelopen dagen hebben we twee keer een korte test gezien van $6.000 maar die zijn allebei de keren afgewezen. De twee meest gestelde vragen die ik hoor zijn:
Gaan we dieper?
Moet ik nu kopen?
In mijn optiek kom het perfecte moment om te kopen steeds dichterbij, maar zijn we daar nu nog niet. Laten we de grafieken erbij pakken om te kijken waar we de komende week op dienen te letten!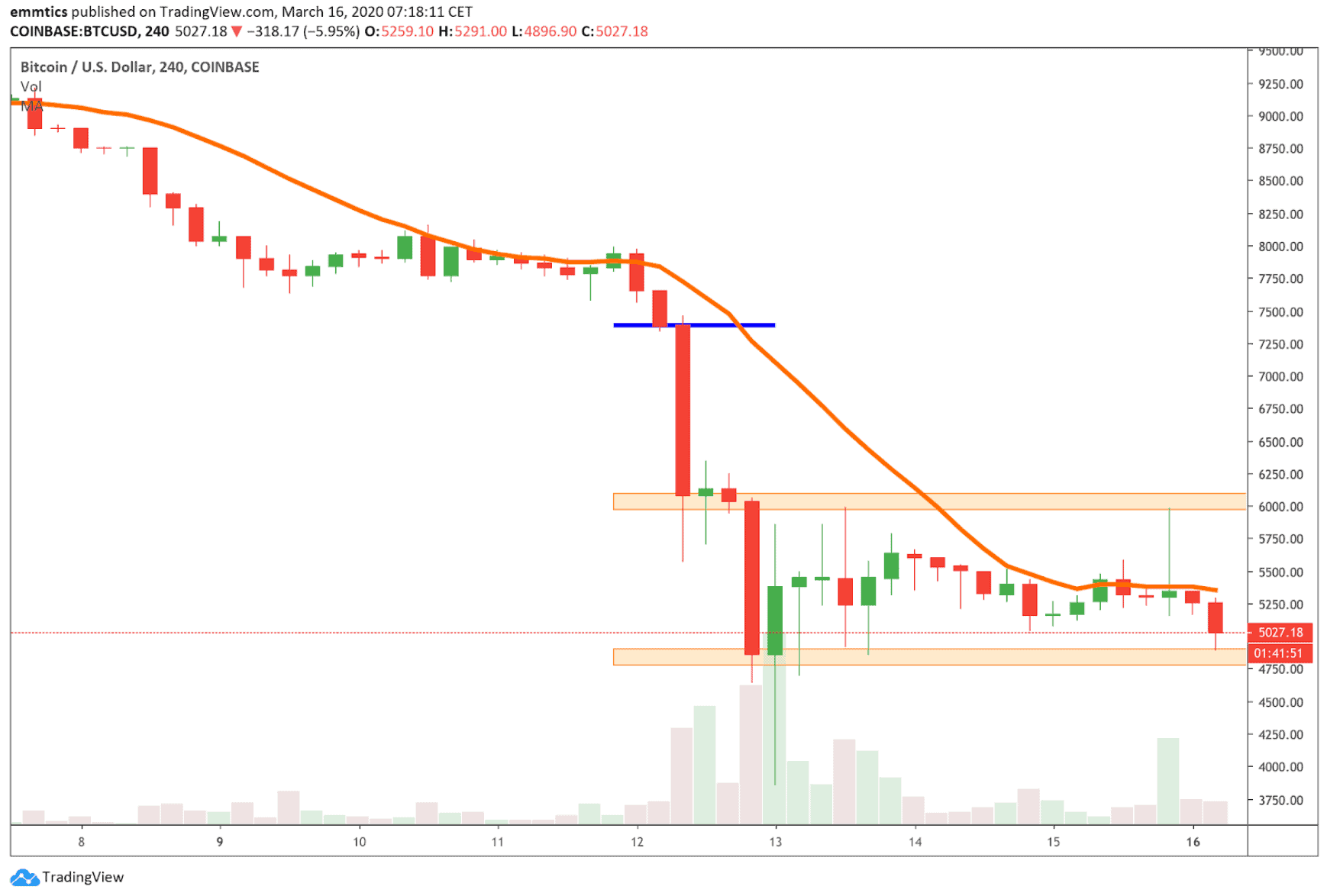 Afbeelding 1: 4-uurs grafiek van bitcoin op cryptocurrency exchange Coinbase
In afbeelding 2 heb ik iets meer ingezoomd op de huidige consolidatie-zone op de 4-uurs grafiek en wat mij hierin vooral opvalt is hoe de koers tot twee keer toe een rally probeerde te starten maar hierin sterk tot een halt werd geroepen rond de $6.000, wat vervolgens resulteerde in lange wicks aan de bovenkant van de candles. Het vormt een lelijk aangezicht en onderstreept maar weer eens hoe bearish de markt op het moment is en dat het juiste moment om te kopen nu nog niet is! Want hoewel de koers flink opveerde vanaf de $3.858, ondervindt de koers op dit moment teveel weerstand bij de $6K en is het sentiment te wankel om nu een goede long-positie te vinden. In onze premium members groep gaf ik overigens wel aan dat dit in mijn optiek niet het moment is om short te gaan (die zat in de $9K en zoals jullie hebben kunnen lezen in mijn vorige column heb ik mijn entry op een haar na gemist.) maar vooral het moment voor het vinden van een goede long-entry en daarvoor is oplettendheid en vooral heel veel geduld nodig!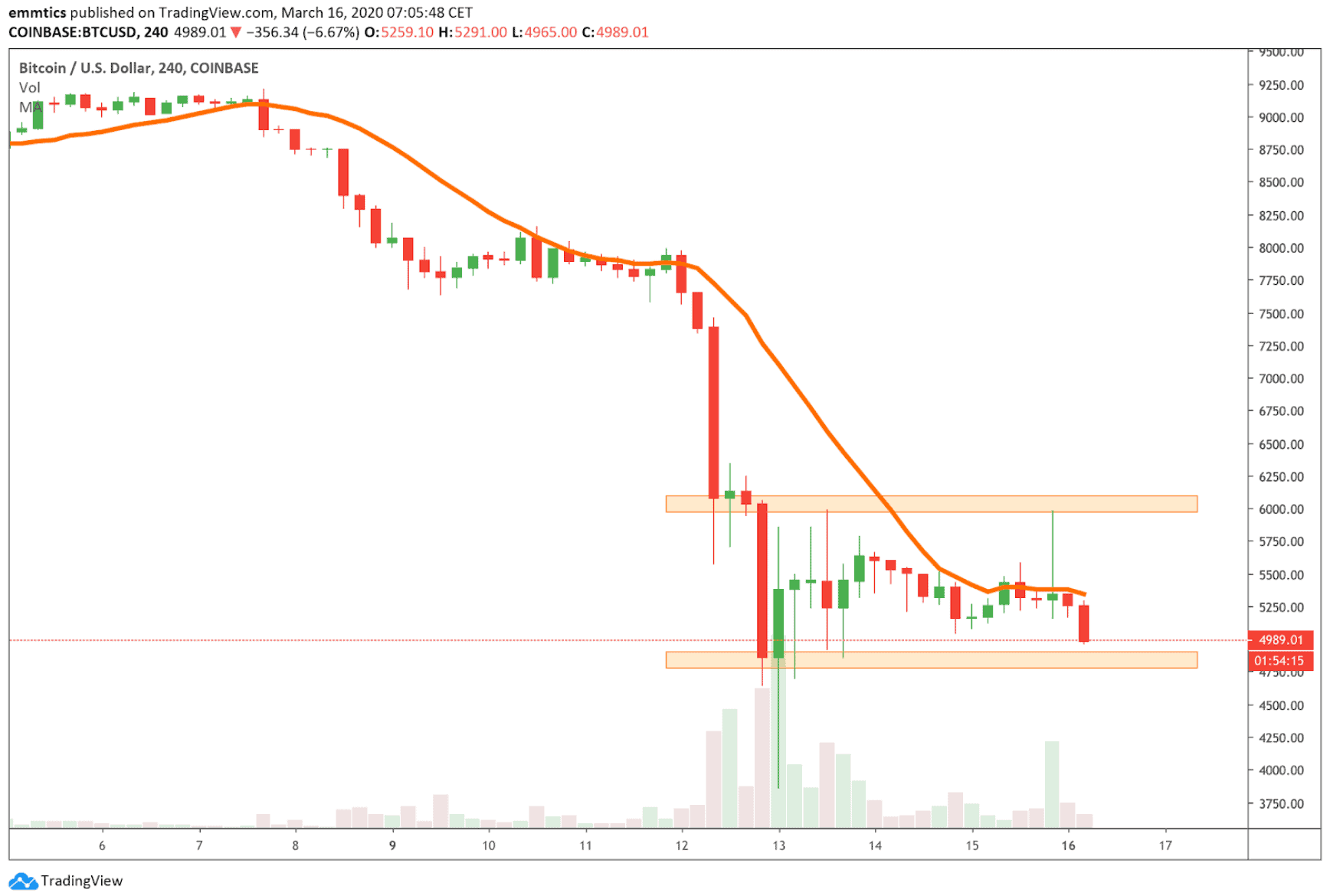 Afbeelding 2: dagelijkse grafiek van bitcoin (BTC)
Tijdens de scherpe dip heb ik zelf een long entry kunnen vinden tussen de $4.000-4.500, maar op basis van de actie die te zien is op de 4-uurs grafiek van afbeelding 1 en 2 heb ik die inmiddels afgesloten. Hoewel ik denk dat de markt op dit moment te overmatig bearish is en dat veel bears zichzelf in de val lokken voor een bear trap als gevolg van een te grote hoeveelheid shorts (afgelopen weken zagen we exact het tegenovergestelde met longs bij de bulls) geloof ik wel dat er betere long entries in het verschiet liggen dan de niveaus die we nu zien. Met andere woorden: we zouden nog wel eens iets lager kunnen, maar naar welke niveaus zou ik dan kijken? In afbeelding 3 heb ik de wekelijkse grafiek weergegeven met daarop de verschillende supportniveaus.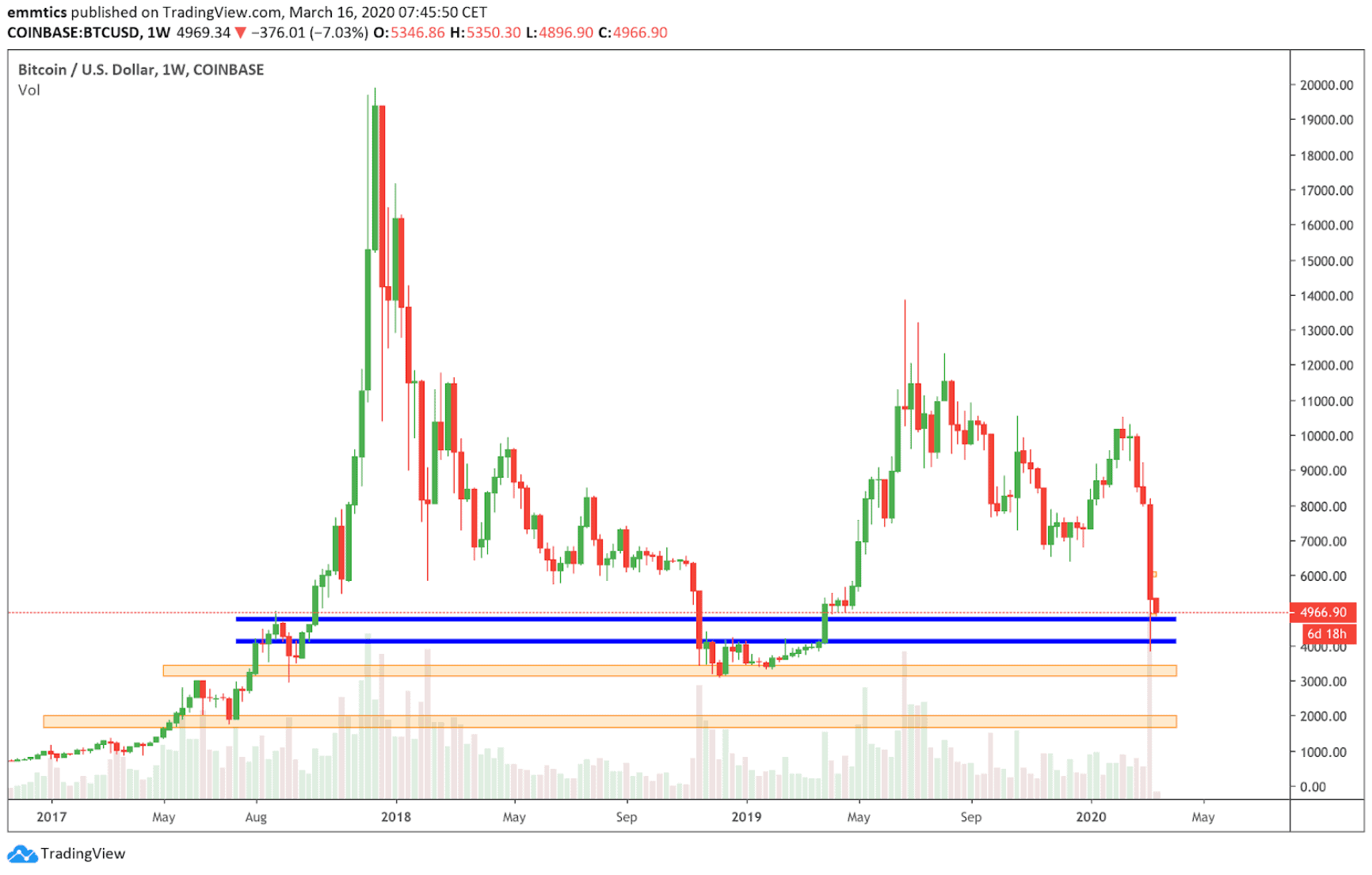 Afbeelding 3: wekelijkse grafiek van bitcoin (BTC) op cryptocurrency exchange Coinbase
Allereerst mag het duidelijk zijn dat we ons op dit moment nog in het kanaal begeven, zoals weergegeven in afbeelding 1 en 2, waarbij het support van dit kanaal zich voornamelijk begeeft rond de $5.000. Echter, mochten we hier doorheen breken dan ligt de eerste (dunne) supportzone rond de $4.750 en de volgende rond de $4.000 en uiteraard de $3.800 (de low van afgelopen week). De echte zone waar ik echter naar kijk is de zone van $3.000-3.200, want dit was de low van afgelopen jaar en ik vermoed dat hier een hoop buy orders verborgen liggen. Mocht de koers in de buurt van dit niveau komen dan ben ik zeer waarschijnlijk een koper en zal ik waarschijnlijk orders plaatsen net boven de $3200 om niet te worden gefrontrunned door een markt die overmatig bearish is en nog wel eens een flinke spike naar boven kan laten zien vanaf dit punt. Mocht de koers ook door dit niveau heen breken dan kijk ik per direct naar de $2.000, waar ik een supportzone zie tussen $1.800 en $2.000. Persoonlijk denk ik echter niet dat we daar nu zomaar komen. Je hoort her en der uiteraard weer wilde voorspellingen zoals eigenlijk altijd het geval is, of de markt nu scherp omhoog of omlaag gaat, maar de $2.000 is nog (te) ver weg in mijn optiek. Ik kijk de komende week vooral naar hoe de koers van bitcoin zich gedraagt in de regio van $4K, maar ben sowieso een koper zodra we de $3K in gaan. Het kan natuurlijk ook zo zijn dat de koers toch haar support vindt op hogere niveaus, maar zolang de $6K nog niet gebroken is blijft het geheel er zeer bearish uit zien. Zoals we in de afgelopen weken ook zagen toen de koers nog nieuwe hoogtes probeerde te maken is de wick een belangrijk niveau voor een retest. Deze wick ligt op dit moment op $3.858 en ik acht een retest van dit niveau met een korte wick net daaronder vrij aannemelijk. Ik blijf in ieder geval heel oplettend en ben er klaar voor.
Het wordt weer ongelooflijk spannend!