De gehele cryptomarkt is over de afgelopen dagen aan het consolideren. Dit wil zeggen dat er weinig volatiliteit en actie te bekennen is. Toch hebben de analisten uit de Premium omgeving van Crypto Insiders een aantal coins die mogelijk alsnog interessant zijn om naar te kijken.
In dit artikel delen we analyses uit de premium omgeving van twee cryptocurrencies. Het gaat dan om polkadot (DOT) en avalanche (AVAX). Ben je nog geen lid of mocht je na het lezen van dit artikel nog vragen hebben, probeer dan een Premium-lidmaatschap 30 dagen geheel gratis.
Polkadot zoekt de weg naar beneden
Als eerst delen we een recente analyse van Polkadot uit de premium omgeving. De DOT koers raakte een aantal dagen geleden perfect de verkoopzone, zoals werd verwacht. Vanaf dat punt is DOT hard gedaald en begon toen aan een impulsive 12345 Elliott Wave patroon naar beneden. Dit patroon staat bekend om explosieve en krachtige waves.
Naar verwachting eindigen deze waves rond de 100% tot 123,6% Fibonacci, ofwel de zone rond de $4,50. Dat is natuurlijk verre van zeker en de analisten zullen snel in de premium omgeving een nieuwe update plaatsen voor de DOT koers.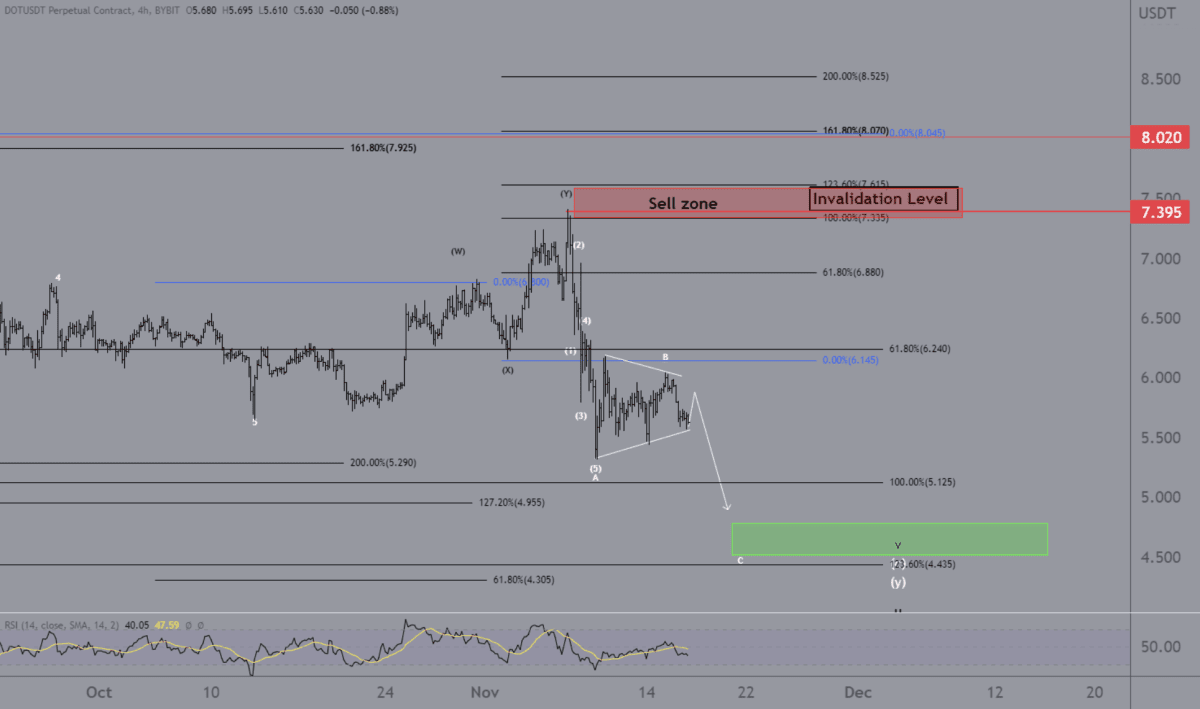 Avalanche mogelijk in de buurt van bodem
Ook voor Avalanche ziet de toekomst er voorlopig niet rooskleurig uit. De analisten zien hier namelijk ook nog een flinke daling aankomen. Die daling kan de koers richting de zone rondom de $10 brengen. AVAX is namelijk bezig met een ABC Elliot Wave patroon, waarbij de C wave neerwaarts is.
De groene koopzone kon hier getekend worden aangezien er erg veel grotere Elliot Wave tellingen samenkomen. Omdat dit mogelijk het einde is van al deze patronen, kan dat betekenen dat hier de uiterste bodem voor AVAX ligt. De analisten verwachten dat de koers na het behalen van dit niveau weer flink kan stijgen.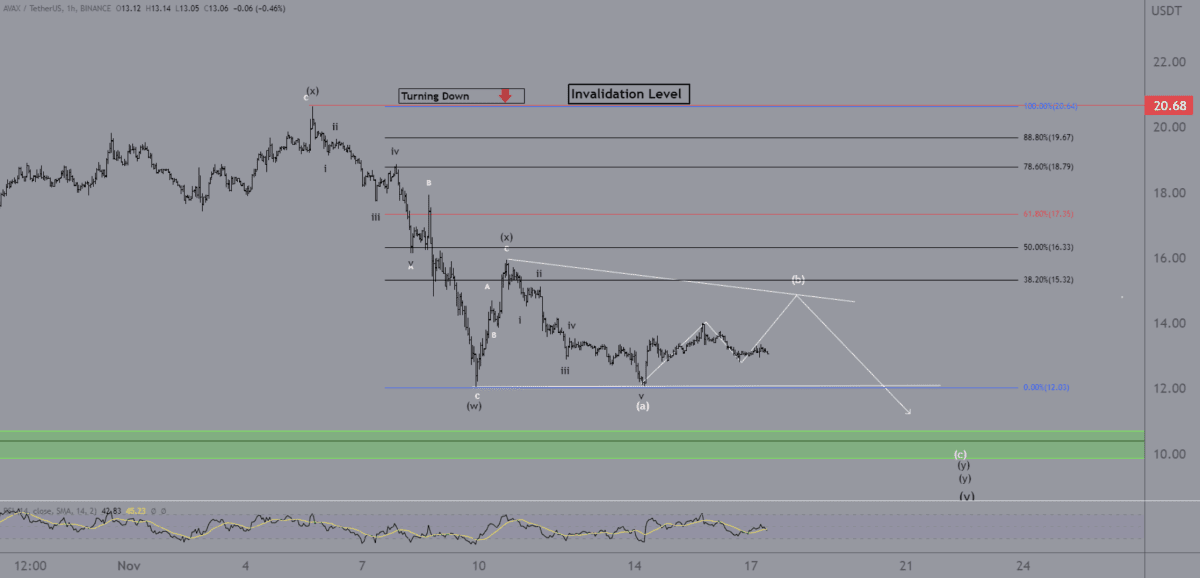 Polkadot of Avalanche kopen of verkopen?
Overweeg jij DOT of AVAX te kopen of verkopen? Zoek jij hulp met handelen in crypto? Dan verwijzen we je graag door naar onze Premium membersgroep. Hier ontvangen leden als eerst de nieuwste technische analyses van een groot aanbod aan crypto.
Ook krijg je toegang tot exclusieve crypto-projecten, koersvideo's, handelsplannen en ask me anything (AMA) sessies met onze analisten. In onze Discord kunnen we 24/7 kennis met elkaar delen en proberen we samen met onze leden de markt voor te blijven. Voor meer informatie neem een kijkje op onze Premium informatiepagina.
Disclaimer: Beleggen brengt risico's met zich mee. Onze analisten zijn geen financieel adviseurs. Raadpleeg altijd een adviseur bij het maken van financiële beslissingen. De informatie en tips die op deze website zijn verstrekt is gebaseerd op eigen inzichten en ervaringen van onze analisten en dienen alleen voor educatieve doeleinden.